Ooo wee…its December baby! The last month of the year is finally here. Man, time DOES fly fast (been saying this again and again) December means two things, which are Christmas and the birthday hehehe. Not so sure whether this year's Christmas will be a great one but let's hope it will lah kan. Got my salary yesterday! Seems like there are a lot of things that I want to buy but when I thought about it again, I should save it first lah.
Nanti
cannot do Christmas shopping
lagi.
I had such an extremely tiring week. There were a lot of things to do at work since Monday. Poster design, newspaper ad, cutting, pasting, cleaning up the room, etc everything lah. Some more last night had to work overtime because this coming Monday, the artist room will be renovate and since the artist room has a lot and I mean A LOT of stuffs, we had to
bergotong-royong
to clean everything. At the same time, my workmates and I were equally pissed at one of the manager because he kept asking us to clean everything as fast as possible. How do you expect everything to be clean in one day? We also got other things to do besides cleaning up ma. If he told us like weeks ago, then ok lah but he loves to tell us at the very last minute. So how lah? The same goes to the newspaper ad. Our dateline was Friday, 5.30pm. By 5pm, he still wants to change this and that. Why never tell us earlier one? Sigh.
I hope after the renovation, the artist room would turn out much cleaner and nicer than the current one. Plus, most importantly is let there be an Internet connection too! Anyways, though I had a tiring week, I had a great time hanging out with the cousins too. On Wednesday, the cousins invited me to watch
Pontianak Harum Sundal Malam
in GSC. Mad Shah came back for the holidays so he and Ekay joined us to the cinema too. Mad Shah drove the Jaguar that his parents had just bought from Uncle Robin in Labuan. The car looked classic BUT as we reached GSC, the Jaguar suddenly went dead. So we went to see what was the problem. Mad Shah got out from the car and then another thing happened. He didn't pull out the keys so…the door automatically
kena
locked! Haiyor…then all of us just stood there trying to figure out a good solution. Merl called Ben up asking him to bring the most flexible hanger that he could find. Mad Shah tried using his
tali kasut
to reach inside the door lock. After a few tries, he finally succeed and the door was open. Hallelujah! The Jaguar still won't start after a few attempts. Mad Shah said it must be the Motor Oil. Luckily, Jesse drove the Prado that night. We went to the nearest gas station and bought one liter of motor oil. Rushed back to GSC and poured the motor oil. Ben arrived but couldn't really do anything about the car. After a few more tries, the car came alive! Another hallelujah.
Obviously we were late for the movie so we decided to head over to Tanjung Aru for dinner and still had a good time. There seems to be a lot of things to laugh and talk about when I'm with my cousins and that's the good thing why I love
lepak-ing
with them
Oh, plus Ben too lah. He's our
kampung
friend and he's considered to be part of the family too. On Thursday, I was invited to watch The Fog with the cousins again but I turned down the invitation cos I feel like staying home. Then yesterday, Mierah invited us to watch Aeon Flux in GSC. I decided to join my cousins since I want to watch that movie too. Met Simone in the cinema! Watching Harry Potter for the second time
bah kan
… hehehe and also met a good friend whom I've not seen in ages, Jordan aka Boy. The last time I saw him was last December in Shenni's. That was like a year ago? He was in the cinema with his Lana Lang (Smallville) look-a-like sister. They wanted to watch Aeon Flux too. Well, the movie was not so bad. Charlize Theron is beautiful! Merl said her look is a mixture of Angelina Jolie and Ashley Judd. I think so too. Next movie to watch is going to be Narnia and also King Kong.
Anne is coming back tomorrow! Can't wait to see her again. Oh, my kampung had started caroling practice too. I'm not sure if we were allowed to have caroling since it's the advent month and stuff. But it feels good to sing Christmas carols again especially Hark The Herald Angels Sing, Angels We Have Heard On High, O Come O ye Faithful, O Holy Night…. and the list goes on. There are just too many Christmas carols to sing.
I thought I would fall off into my bed as soon as I reached home but I went to get myself Nescafe Mocha in 7-Eleven on the way home from work. So I am still very wide-awake. Actually, I'm waiting for my dad to sleep so that I would be able to watch the TV. Somehow, I just wish I had my own TV in my room with my own ASTRO decoder so I could watch my entire favorite shows without waiting for the repeats. Since I've no idea on what should I write anymore, I'm going to stop here and listen to some songs and talk to Simone for a while. You know, the song
Pupus
by Dewa is very addictive! I listened to it once, and then the song kept playing on my mind over and over. And I sang that song twice in K-Box heheheh. Okay, have a great Sunday. Need to go to church later.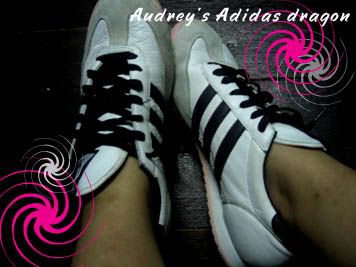 Some pics…I'm trying Audrey's Adidas Dragon sneakers (the one that looks like Ken's Adidas Dragon) I cannot muat the shoes since Audrey's feet is larger than mine.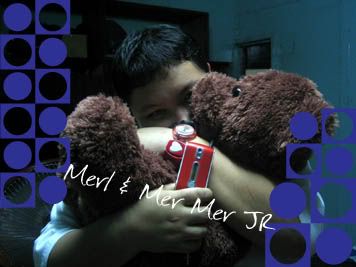 Merl with her birthday present, given by that special someone…heheh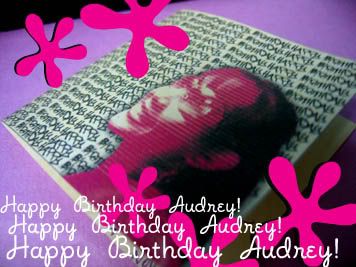 Audrey celebrated her 15th Birthday on Nov 30th. HAPPY BIRTHDAY DREY! LOVE YA. This is the last minute birthday card that I made for her.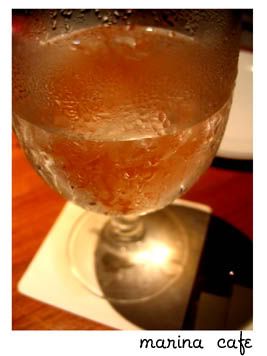 Taken in Marina Court, Sutera. Nothing to do ma.