6:36pm(Thursday 8th Dec)
I freaking wrote half of the entry last night at about 2am when suddenly the lights suddenly went out! The worst part was I didn't even have the chance to save the entry! Arghhh…so now have to write everything from the start. Aiyoo…but since today I am not going anywhere (I hope) cos I am really tired from work since we had to rush and finish the newspaper ad today, I hope I'll be able to write long entry. Man, I am so hungry! I'm thinking of dividing today's entry on a few categories so it would be much easier for me to write and actually organize my thoughts properly. So…here goes:
Work
It's been okay. I think I should not complain a lot about it because work seems to be fine plus my workmates are nice to me too. Can be
satu kepala
somemore. Work is of course still very tiring. I guess I need to blame myself for this too. If only I can sleep early and not staying up late all the time, I MIGHT not be that tired and sleepy at work. I still find it freaking hard to sleep before midnight. I wish I could but I can't. I totally need some good motivation. Anyways, the renovation in the artist room had started since Monday. I heard my boss said that I would get my own PC as soon as the room is done with the renovation! Best of all, we can finally access to the net too. But I doubt I'll be able to play MSN or blog while at work. Have to
curi-curi
kan? Heheheh. Doing newspaper ad can be pretty interesting too. I've been assigned to do the Chinese newspaper ad for two weeks now. I know it sucks when I am not able to type Chinese words by myself but what to do lah kan? Somehow I kinda regret for not learning to write Chinese characters. My mother has been telling me a lot of times that is still not too late to learn BUT…well, you should know that I am the laziest person around. Heh.
I am still not so pro in CorelDraw but so far I am able to handle that software pretty fine. So everything at work is still okay. Not going to complain much about it. I hate being tired all the time but what to do lah kan? One more day before Sunday! Can't wait for it.
Caroling
Been going to the caroling practice since last week. My
kampung
is going to start caroling on the 19th, which means, two more weeks left to practice before the real day. I accidentally saw the caroling schedule in Ancut's book. There are about 10 houses to go in ONE NIGHT! Can die. Really can die. Now I am not sure if I can even join it every week. If I am not working then it'll be okay but since I AM working, I know I am going to be super tired. Plus next week Dabak is organizing the Sunday's mass. There'll be two practices to go next week! Sigh. Well, I do hope this caroling will be fun like the good old days. Been joining the caroling since I was in standard 5 and it was way fun.
Bah, dulu kan masih budak-budak.
Though Anne will not be joining us this year, I still hope it'll be great lah. Bringing my d-cam to caroling is a good idea too. I'll update on this again soon.
Family & Friends
Merl just called a while ago and invited me to go jalan with them again. Haih…not that I am complaining or anything. But there are times when I feel like being alone in my room I am not turning down the invitation, so I am going out again later.
-edit-
11:55pm(Friday Dec 9th)
Just got back from a long cruise with Mad Shah, Merl, Arnold and Jesse. We practically went everywhere. Tg. Aru, Likas, Inanam, KK, Putatan and Terawi. Memang nothing to do right? As long as Jesse and Mad Shah are here I guess transportation is not going to be a big problem. By the way, Audrey and Amirah are in KL now! Darn!!! I so wanna go there lah. Audrey and Merl came and visit me at work on the afternoon then Audrey said that she's leaving at 5pm and I forgot to give her some pocket money.
(Besa lah ni, jadi Auntie kan?)
Anyways, hope they're going to have a good time there. I am definitely sure the both of them will bring back a whole bunch of stories for us back here.
Jesse celebrated her 19th birthday Wednesday.
HAPPY BIRTHDAY JESSE!
See, our birthdays are so near. We went to celebrate her birthday in MCD's Likas. Jesse actually bought a Tiramisu cake for herself heheh. Unfortunately, my d-cam was not with me so there goes my chance to snap pictures on Jesse's birthday. It was raining cats and dogs that night but it still doesn't stop us from celebrating Jesse's big day. One more year Jesse and then you'll reach the big number 2. Merl was telling Jess and me a while ago that we (the cousins) seem to always hang out together all the time. It's like everywhere we go, it'll always be with the cousins. It's not that I don't have other friends. I do of course BUT…my friends are caught up with their own plans too. Mone, I think it's about time we go out yam cha. I know this month is going to be hectic but let's just find one day where we can just sit and talk ok.
I still miss my KL friends. I did talked with Ken and Ivan a week ago through msn but that was just for a brief moment. But it's good to know the both of them are doing fine. I reminded Ivan on his favorite phrase "It is time…" and he said OMG, he hasn't been hearing that for a long time. LOL. That was the good times we had huh?
Family matters…everything is fine too though I know I've not been a good daughter and spend more time at home. My mother is okay with me going out at night without a curfew. I've told my mother before that even if I go out at night, I would not do anything immoral and stupid. My bro watched Naruto too. He even downloads the anime on my pc. Sigh…
-edit-
11:52(Sunday Dec 11th)
Wah! I really have no time to update lah. I know I should've updated my blog since last week but I've been so busy, and I am not lying. It's true. Work, caroling practice, freelance, etc. Haven't got the chance to have a REAL good sleep. My back is aching like hell so as both of my shoulders too. I want to go for a massage but I've got no money to pay.
I've just found out that my bro had just got into an accident. I don't really know how did it happened cos my bro doesn't seem to want to talk about it. So…now the Lancer is in the workshop. I can't drive to work on Saturdays anymore. Now everybody needs to rely on the Unser(which I am still not allowed to drive…geez) I did convinced my mother that I could handle big cars now. But, guess she was still not convinced yet.
Music & TV
Haven't been listening to any decent songs lately. I've shunned myself from the radio heheh. But last Friday cruising in Mad Shah's Ninja King, he played a lot of classic rock music on the CD player. Classic Rock rocks. Aerosmith is one of my favorite classic rock bands. Steve Tyler might not be the best-looking man on earth but he has such a great voice. Skid Row is a great classic rock band too. I remembered my bro's friends in kampung used to sing "I Remember You" most of the time especially during our choir/caroling practices. Oh ya, another classic rock band that I like are Guns N Roses.
TV shows…hmm, I haven't been watching a lot of shows on TV too since I was out almost every night. I did watch Miss World on Saturday night but halfway through the show I got so bored that I went upstairs to do my Christmas photography experiment version Uno. If any of you watches MTV, they have these twins who suddenly became the MTV VJs. I can't stand the both of them though they seem quite nice in person (I 've seen them in real life before). It's like they're pan-ing cute and being childish whenever they host Pop Inc with Colby. Arrggh…it annoys me so much.
Love & life
Love? Don't wanna talk about it. It'll get complicated when I think about it. So, let's just not talk about it. Well, I thought of quitting my job early next year and take a good rest before I decide to continue working or further my studies. But 80% of me say that I should go and further my studies and get a degree. I think I might be doing it oversea. My mother and I had talked about it a few times but I haven't given my mother my official decision yet. You know lah, going oversea is not easy. Money is the biggest issue, then the visa, the place to stay, etc…lots of stuffs to think about. My life is full of complications these days...
I'm praying that God will show me the right path and not let me go on and thinking on which path I should take in a road that has been diverged in a yellow wood heheh. (Ketara suka the poem bah kan) Okay, I am super tierd. I'll try to continue tomorrow if the time allows me to. In the meantime, enjoy the photos.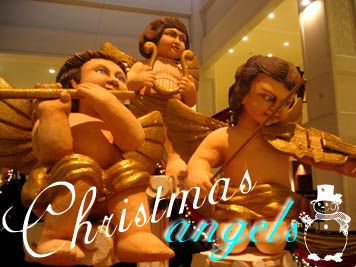 Sutera Harbour Resort. We went for a lovely dinner on Jesse's brithday. These angels were displayed at the lobby. Nice eh?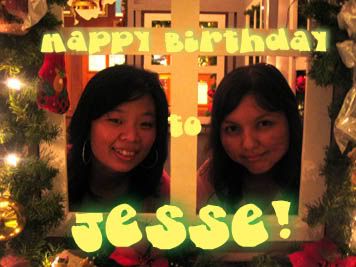 Jesse and I.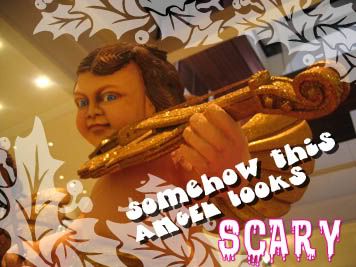 Yeap, I totally agree.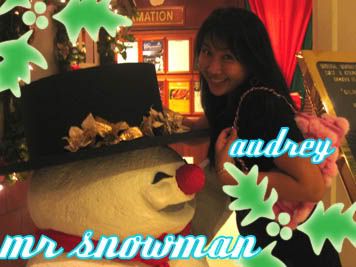 Audrey.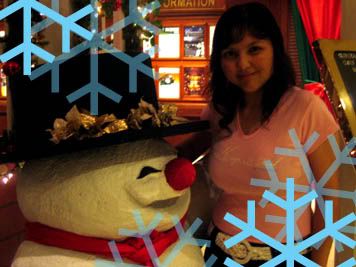 The birthday girl.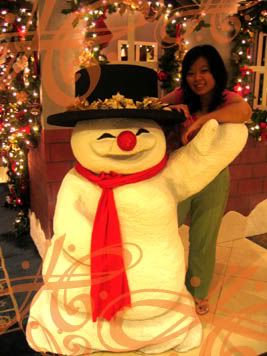 That's me and the snowman.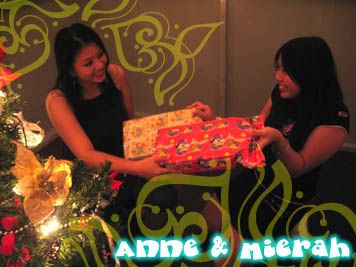 We've got the xmas spirit y'all. Anne and Mierah exchanging gifts 9actually, they're just acting hehe)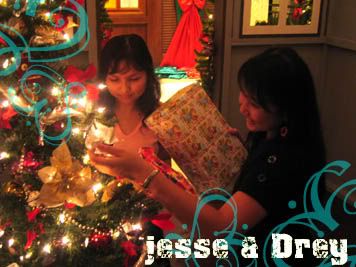 Jesse and Dree doing the same thing.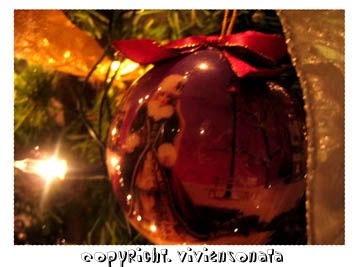 Barbie Christmas ball!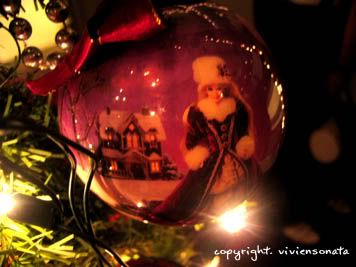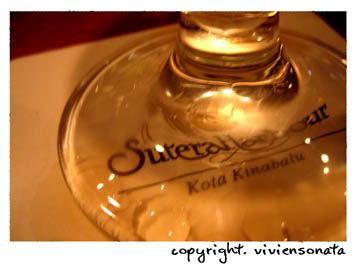 I have nothing to do. So...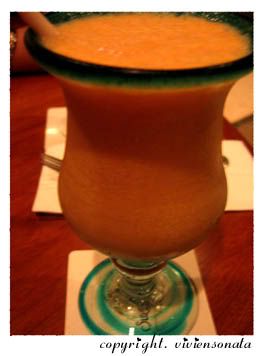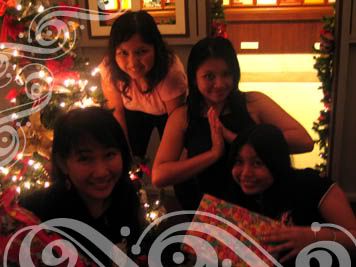 The cousins.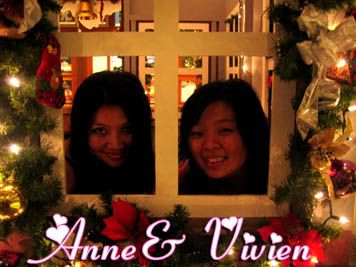 Anne and I.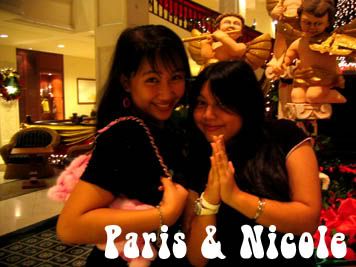 Audrey the Paris Hilton and Amirah the Nicole Richie.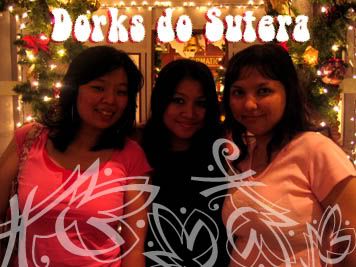 The dorks made it to Sutera!
And here are some Christmas photography experiments that I did. I'm doing this for the christmas card that I was asked to design. (suddenly got freelance work, wei!)
Do not steal the photo's ok.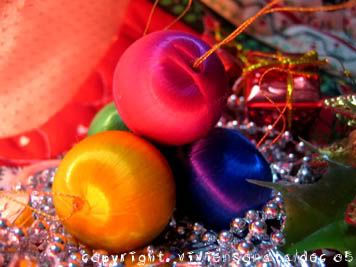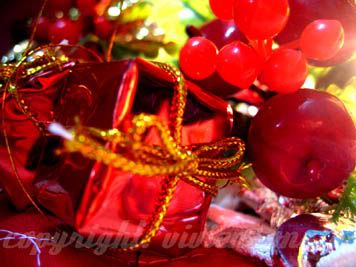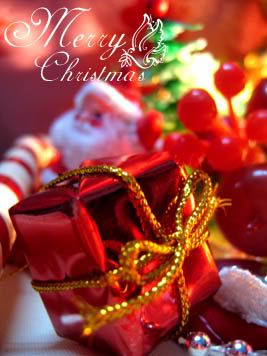 This is my favorite.