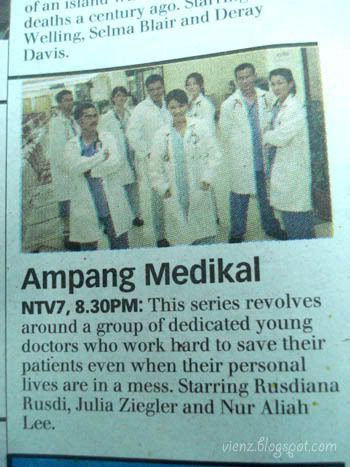 I am a fan of Grey's Anatomy. Loved it since I watched the first ever episode on Star World and have been following the drama religiously till now. When I saw the TV ad for this new Malay drama on TV two weeks ago, I was thinking, "Oh man...we have a Malaysian version of Grey's Anatomy now?" Okay, I think it's fine if they wanted to do a drama about a group of doctors BUT it should have it's own originality no? I managed to catch the first episode last night, well only for half an hour cos I dozed off after that. All I can say for Ampang Medikal is...there are obvious similarities with Grey's! Like the drama has a narrator in the beginning just like in Grey's. Then there was the elevator scene, and there's a garang head of nurse ala Dr. Miranda Bailey, not forgetting the bunch of interns too. I'm still wondering who's gonna be McDreamy or McSteamy for Ampang Medikal. Azhar Sulaiman might be McDreamy though. Anyone watched it last night?
So yeah...haven't really got the chance to blog cos the past few weeks has been totally insane! I've mentioned that I was involved with this Merdeka Exhibition right? Well, I'm so glad it's over (well, at least for now) Been handling a lot of multi-tasking works like designing, calling out students, sorting out the transportation, framing student's artworks, etc. Wednesday night was the set-up night so me with the workmates plus a bunch of students were in The Gardens from 10.30pm till 4 friggin' am! We could've finished earlier but we had to wait for more than 2 hours before we could actually start work. I could feel my eyes almost dropping out cos it has been a really tiring day, not only for me but also the workmates and the students too. After all the hardwork for the past 1 month, I am just soooo relieved that the Merdeka exhibition is up and running now. So if you're around KL, do drop by to the Gardens (just right next to Mid Valley) to have a look on
The Merdeka Visualogue
 k!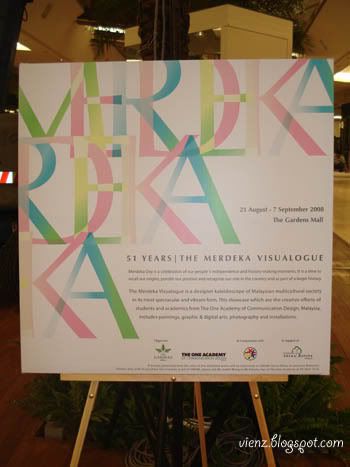 51 Years | The Merdeka Visualogue (21 Aug - 7 Sept 2008)
The Merdeka Visualogue is a designer kaleidoscope of Malaysian multicultural society in its most spectacular and vibrant form. This schowcase which are the creative efforts of students and academics from The One Academy includes paintings, graphic and digital arts, photography and installations

.
Some pictures taken during the set-up.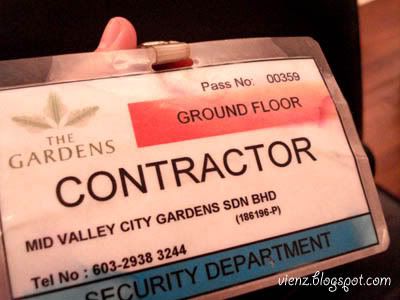 Cultural box installation where the students spent their time and sweat doing it.
Patterns!
I reached work at noon yesterday and it rained! I wish I could just sleep in and skip work but I still have to finish up with the gradings (still have lots to do). The submission  was supposed to be on Monday but since I doubt I can finish grading everything while I was busy with the Merdeka project, I've asked permission to submit everything next Monday. So crossing my fingers and hope I can finish it. Grading Print Production subject can be torturous!
On the happier note, I am going back to KK next month! I've already booked my air ticket and I'm excited! But what worries me though is I might have to make some replacement on the classes that I can't attend when I'm going off and I haven't even apply my leave yet! I am crossing my fingers on this too and hope everything will turn out A-OK  lah. 3 weeks to go!
After I'm done with the gradings, I am so gonna treat myself with a good movie. Man, I haven't even watched The Dark Knight yet. Merdeka holidays coming soon and I might be going to The Annexe again :) Oklah, gotta go and watch Martha Stewart before catch up with my sleep now.