The one thing that I always look forward on Saturday night is to watch another episode of Grey's Anatomy but the TV is currently showing this Lantern Festival concert thingy. I want my Grey's!!! Man, I am so going to be dead bored on this rainy Saturday night. Sigh.
Anyway, today is one of those Saturdays that I felt totally reluctant to go to work because the weather was a little cloudy when I woke up and I knew it was going to rain later so I was hoping that I could stay in bed longer. I am currently in the midst of preparing my notes for next week's class. The brand new term is starting next week! How time flies lah. I was actually assigned to become the Course Administrator (which is similiar to guru kelas in high school) for one of the classes this time around. I've met the students during the induction programme and to my surprise, there are more guys than girls in this particular class. This is gonna be interesting no? 
The new timetable stated that I was not assigned to teach CGD subject! Well I'm not really sure whether to feel glad or not cos I thought if I was assigned to teach CGD again, then I might improve my computer skills but, I'll still be tutoring for 2 of the guest lecturers so it's all good. What I'm actually worried about is...teaching Design 1 for the first time. Not exactly prepared on this as I've mentioned earlier, I am still in the midst of preparing my notes. I need to revise a lot of things and constantly search for references that I can show to students. The pressure is definitely ON so please wish me luck cos I need it :)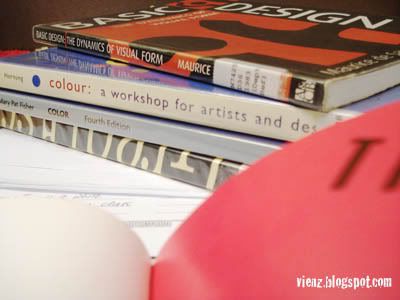 I've only started preparing my notes like two days ago because I've been caught up doing a lot of paper works the past few days.
But then, I can get distracted by other things too which leads to major procrastination again...
The rest of the day was spent  yamcha-ing with Ivan and Ken in Kim Gary. Ken told us that his Raya ad is done but he didn't actually liked it cos there was too many changes from his original idea but I am still looking forward to see it for the first time :) Then reached home and did half of my laundry and also cleaned the entire bathroom. Why is it always me who cleans up the bathroom everytime? I mean I have a housemate who shares the bathroom with me...well, I'm not angry or anything but c'mon know your role!
Sunday night, I will need to go to The Gardens again to help out in dismantling the Merdeka Exhibition. Hopefully everything could be done by midnight cos I have a 9am class the next day! I bet you I am going to have trouble waking up early again. 
Oh, I can hear KK calling out my name. Can't wait! Okay, gonna watch Cashmere Mafia now. Have a grreeat Sunday!!! XOXO
P/S: I hardly like rainy days but today is an exception.