I think my memory of remembering people is getting worse. Man, I tell you this is absolutely a DEFINITE sign of ageing and my birthday is not even here yet! How can? There are quite a number of times when students said hi to me outside campus and it took me quite a while to figure out if any of the students were really my students or not. If I did recognise them, I tend to forget which class/batch they're from. Like yesterday, a bunch of students called my name when they saw me in Pyramid. So I waved at them and then tried to figure out which class were they from. Batch 85 or 88? Then, a while ago I was inside the elevator at the condo and another student of mine came in and I took a quick look at him and said, "I know you're one of my student but I cannot remember which class are you from," 
See? It is getting worse and it has been happening quite a lot lately. Sigh. It's raining right now. Was supposed to go to the cineplex again but when I reached downstairs, it was windy and the clouds doesn't looked good so had to cancel the yamcha session for tonight. Such a good moment to sleep since it's raining and all but today (since it's already past midnight) is another working day again plus I've got to do a medical check-up first thing in the morning hence I was asked to fast for 10 hours. Couldn't even drink teh tarik or milo ais. Just plain water. Ish.
Oh, it is time for me to reveal the good news! Okay, here it is...tomorrow I will be away again and no I'm not going back to KK even though I wish I could BUT I'll be out of the country w00t! I'll give you a clue where I'm gonna be...If you know the title of the upcoming Nicholas Cage's movie, then you'll definitely know where I'm going ;) I will be away from tomorrow till Sunday and fyi it's not considered a vacation. I'll be attending this
event
since I was one of the "chosen" one to join in for a new business entrepreneurship project which will start soon.  
But then, you remembered when I said that this good news doesn't really make me go all YAYYYY right? Well, it's cause I'm kinda in a tight budget at the moment so I might not be able to spurge on a lot of stuffs and I know there's a famous market there where you can get everything under the sun! I wasn't exactly prepared for this trip too and that is why the budget side is not currently great at the moment. Plus there are several personal reasons too but it's better for me not to share it here. Anyway, whatever it is, I got to look on the bright side no? I mean this opportunity doesn't comes everyday so I should be lucky and thankful to go right? Not forgetting it's one of the places that the girlfriends and I have been planning to go for so long. Hopefully we can make it next year ya??
So yup, I am going to
Bangkok
tomorrow! Do wish me luck so I could meet a hot thai guy while I'm there hahaha. NOT. Okay, I'm kidding but do wish me and my work mates a safe journey and hope we won't encounter all the rallies/riots that is currently going on in Bangkok city. Not sure if I'm able to meet up with the Thai boys though. I texted Tee but I wasn't able to send the text message to him. Hope  he gets to read my email lah. I miss them! All three of them :(
Guess, that's it for now...oh,
Estranged
is coming to Pyramid to perform in Latte@8 this Friday and I won't be in Sunway at that time! Crap. I really would like to see them perform again. So near yet so far...
Here are some work-in-progress photos. I've no classes yesterday so I took some of my time to do this illust. Not so great la as usual (I know my students could do better) but oh well...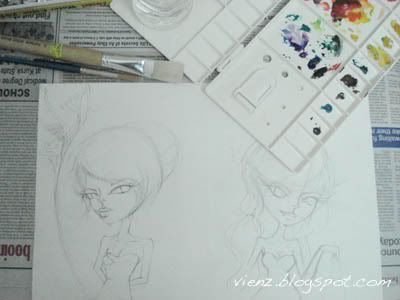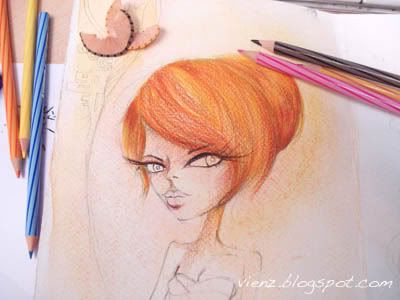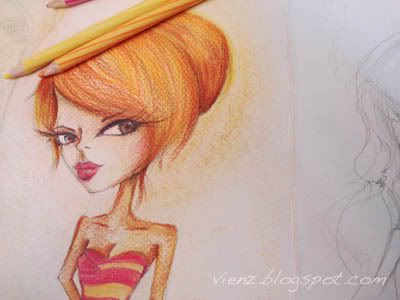 Will post the final outcome later tonight. Amazing Race Asia Season 1 is currently showing on TV right now and guess where are all the teams now? 
Bangkok :)
P/S: I know having a LDR (Long Distance Relationship) is not easy especially when you've just got married but to Anne and Evor, hang in there! I love you guys both haha *hugs*

P/P/S: The house lizard has magically disappeared! Hallelujah.