Note: This post will contain about 70+ pictures so, hopefully nobody is using a dial-up connection while viewing this.
Edit: (29/10/08 @ 1:53am. Finally finished posting everything up. Sorry for the delay. There were some distractions around)
Gosh, I wish today is still a holiday. I am having a replacement class today but, I forgot to bring back my notes for today's lecture thus I am not able to make a slideshow for the students *sigh* Why la?? Last week, I had already prepared a slideshow for my Design 1 class but unfortunately I wasn't able to show it to the students too because the classroom's computer wasn't able to read my pendrive. Soooo...the best solution that I came up was to come real early for work today (which I highly doubt I could seeing it is already past midnight and I am still wide awake) or do my best to compile pictures and info from the net. If I screw things up in class today so help me God, Imma shoot myself! Ok la...not that brutal...jk..jk.
Yesterday was the Diwali holiday, I thought I'd end up doing nothing but Ivan did came over to the condo for lunch and later in the evening we walked to Pyramid to meet Ken there. Weather's been quite good for the past 3 days. It didn't rain since Saturday which was kinda good cos I miss the sunshine! But yesterday was pretty hot. I got all sweaty and sticky at night.
We had Bak Kut Teh for dinner! Super kenyang bah. Big thanks to Ken for the treat :) We went over to the 'cineplex' for yumcha after dinner and that's when Ken, Ivan and Ivan's friend started talking passionately about alcohol and having fun in the club...and I felt so out of place again *sigh* So my eyes were glued on the wall trying my best to concentrate on Die Hard 2 but to no avail. Met
Yappzai
who recently got back from good ol' WangaVegas. We must go yumcha together la...mau dengar crita dari NZ bah heheh. Oh, speaking of meeting people, finally met
Elfie
after being 'virtual' friends for quite sometime :) To be honest, I was nervous bah cos I totally suck at meeting new people plus my social skills still needs a hell lot of improvement but it did turn out to be okay! Well, I hope it was heheh. Nice to have finally meet you Elfie and thank you for the J. Co Donuts! Hope we can still hang out again soon.
So yeah,  my weekends and Diwali holiday was well spent :)
Allright, it is time for the Bangkok post. I'm dividing the post to two part. First part would be about places and foods and the second one would be about exhibitions, art and design. We'll start of with the first part shall we? In my previous post, I did mentioned how I wasn't exactly keen on going for this trip due to some reasons la buttttt...turns out Bangkok was great! And I was so glad to have the chance to go there and I will definitely be going back there again, no doubt about it hehe.
Okay, here goes...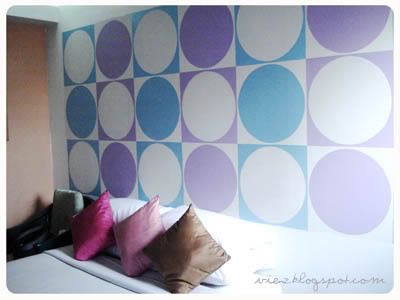 The place that me and my workmates stayed is called Sawasdee Sukhumvit Inn, located at Sukhumvit Road at Prakanong, Bangkok. Click for the website
here.
This is how the standarddouble size room looks like. Love the colour cos it's
purple!
The Inn is near to the Thong Lo sky train station so it was quite easy for us to go get transportation there. Room rate for standard size room is about 900-1400 Baht (RM90-RM140) depends on the special offer that the Inn provides la.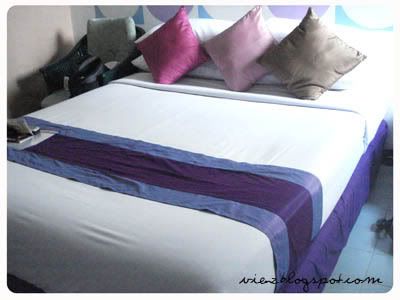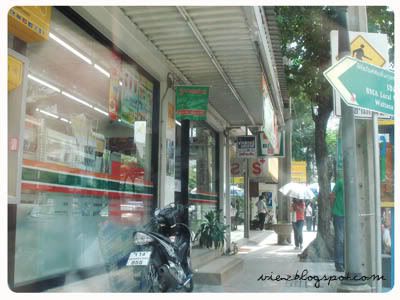 I found out that Bangkok has tons of 7-Eleven shops! Everywhere you go, you're able to see at least 5 of it.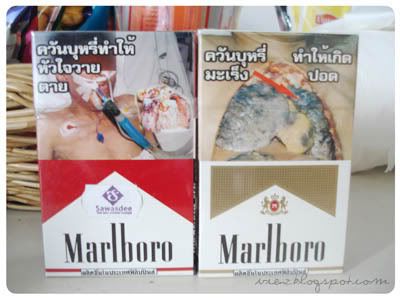 Interesting packaging no?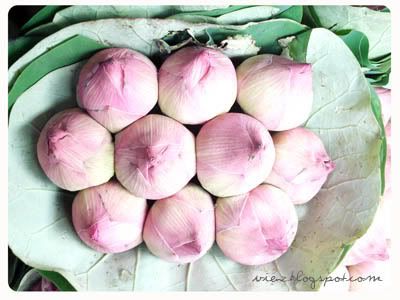 While walking along Sukhumvit road looking for lunch during the first day there, I saw this plant. Well, not exactly sure what's the plant or was it flowers? called but it sure has interesting colours.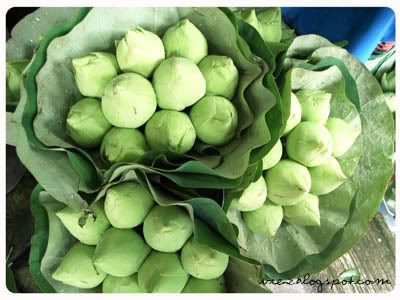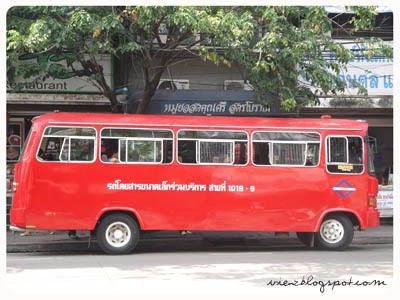 I also realize that the public transportation in Bangkok especially buses and taxis are in bright colours.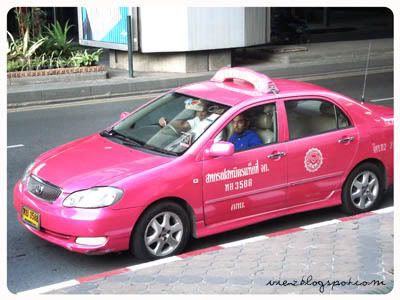 Pink taxi!
(picture taken outside Emporium shopping mall)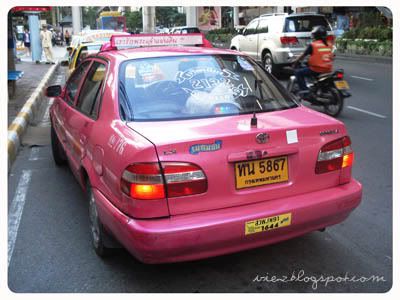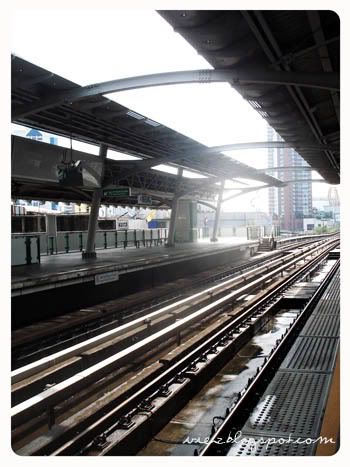 Sky train railway station.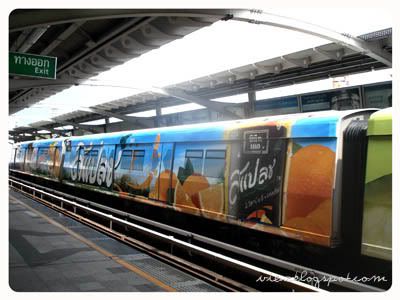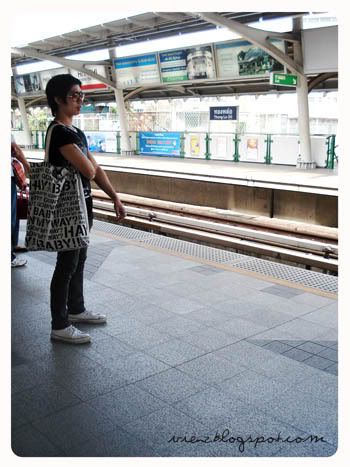 Thai people are quite stylo-mylo too.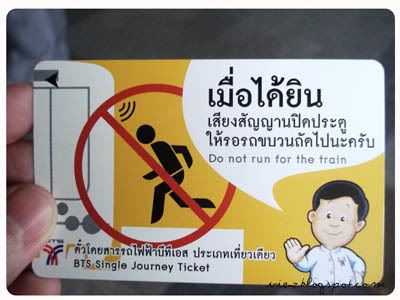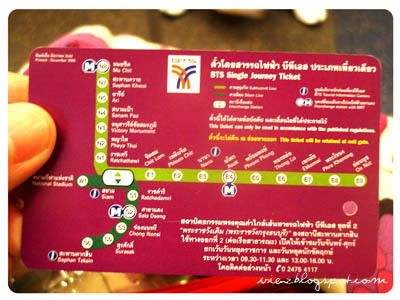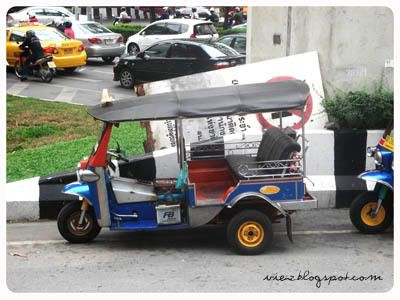 Ahhh...the infamous Tuk Tuk. Didn't get the chance to ride it though. Heard that it is more expensive than normal taxis.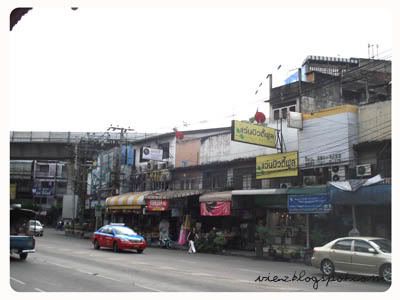 I enjoyed seeing a lot of old buildings in Bangkok. If I have a canggih-manggih camera, it would've be great to capture the old buildings not forgetting the shop signs too.
Beautiful textures.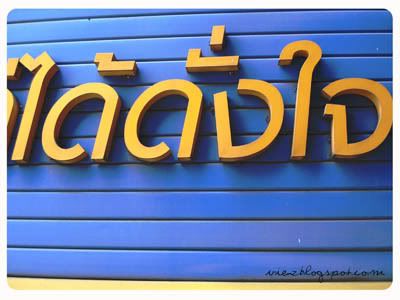 Another example of the usage of bright colours...in this case, this is complementary colours. Man, I sound like I'm lecturing here haha.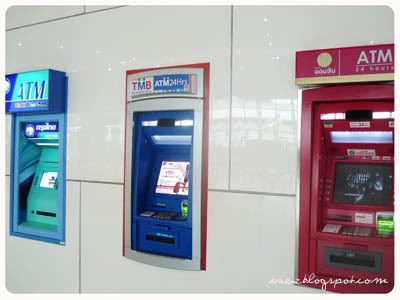 ATMs are colourful too!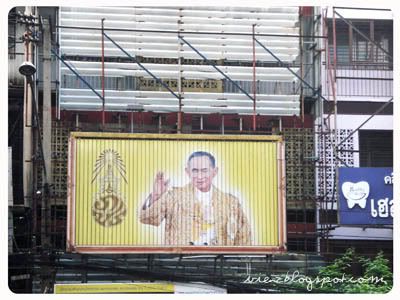 Oh, Thai citizens love their King very much fyi.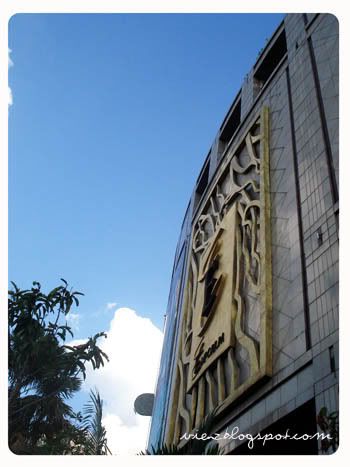 The first shopping mall that we ventured was Emporium which was just one station away from Thong Lo (this station is nearby the Inn). Quite a huge place I must say. This is where the Thailand Creative Design Centre (TCDC) is located as well but more about TCDC in the upcoming post.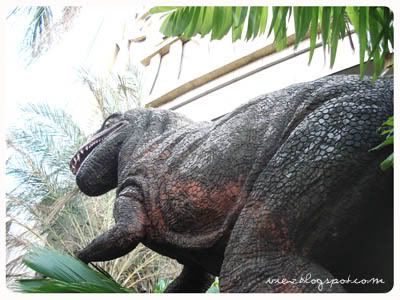 Right outside Emporium, you'll be able to find a T-Rex (I hope I'm right la)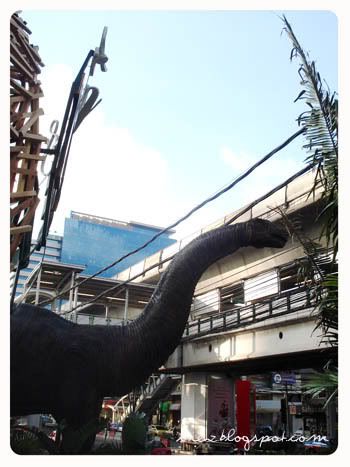 And...another type of dinosaur but not sure what's the name for it.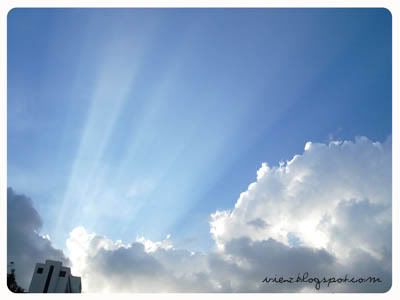 The colour of the sky in Bangkok seems to be much blue-er compared to the sky Malaysia. Totally lovin' it. This was taken went we were strolling at the park nearby.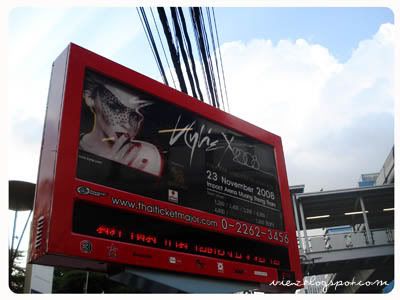 Spotted this too. Kylie's coming to Bangkok! If I'm still there, I would want to go to her concert!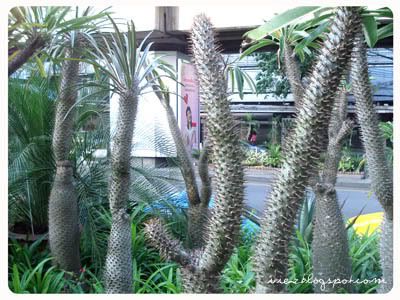 Another random yet interesting plant.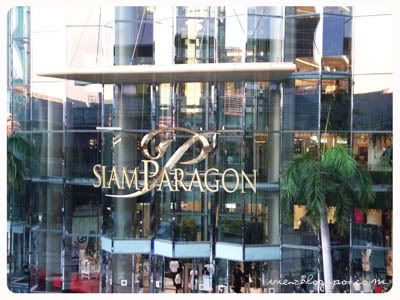 Second shopping mall that we ventured was Siam Paragon, the biggest one in Bangkok. Here, most of the shops are quite similar too the shops in KLCC/ Pavillion. Can't really afford the stuffs there lah. Next to Siam Paragon, you'll be able to find Siam Center & Siam Discovery and then if you go further down, you'll be able to find Bangkok Art And Culture Centre (BAACC). During our visit there, The Bangkok Design Festival was going on.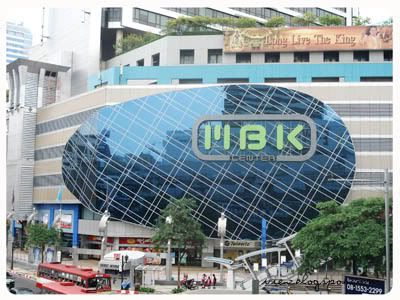 MBK, another shopping mall nearby. Now this shopping mall is where you can find more affordable stuffs. I guess it's a mixture between Sg. Wang and Pyramid?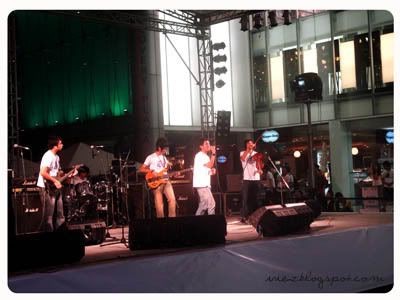 A Thai rock band (I reckon they're a bunch of students) rockin' it out right outside Siam Paragon.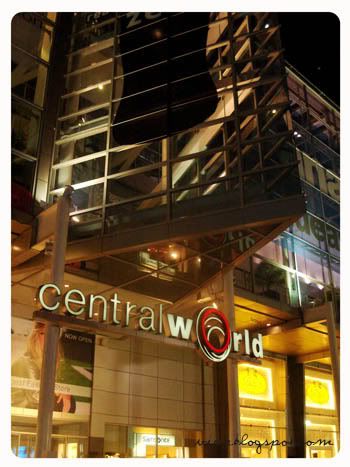 Another shopping mall further down...called Central World. Didn't went inside though cos we went over to the Indy In Town an open market for young designers/artist to sell their goods just right in front of the shopping complex. Saw a lot of vintage accessories! *hearts*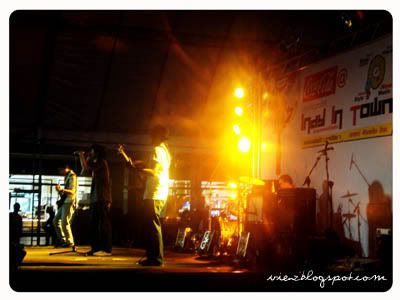 Another Thai rock band...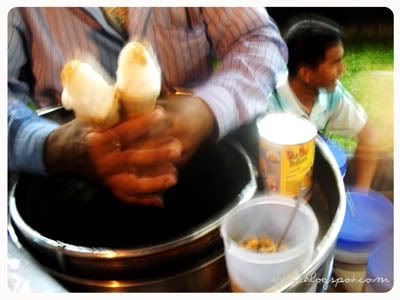 Coconut flavoured ice-cream...good to have one when you're tired of walking the entire day.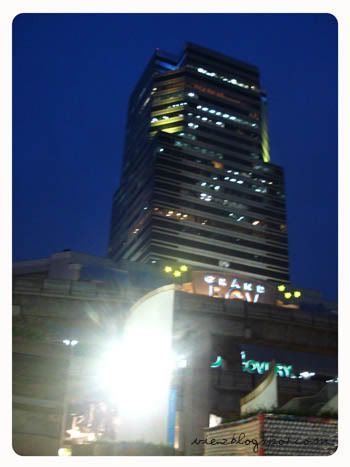 Can't recall what this building is called though.
During our second last day in Bangkok, we went over to Chatuchak market! That famous MUST GO market when you're in Bangkok. Weather was really humid and we managed to walk for about 6 hours just to shop...gila eh.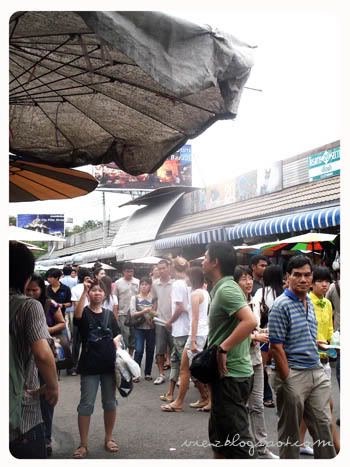 It was way bigger than Petaling Street.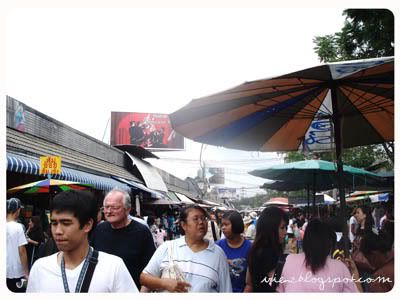 Heaps and heaps of people there. It's insane.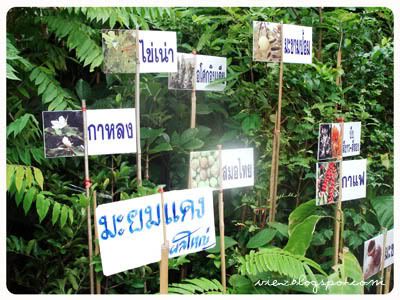 Managed to shop quite a number of stuffs since most of the stuffs there are cheap. A t-shirt can cost only 100 Baht (RM10)!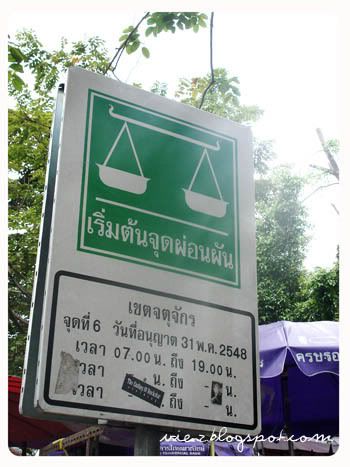 On the way back to the sky train station, I spotted this. Errr, Thai BN?
Some of the street signs were vandalised but I still find it cool :)
(picture taken at Sukhumvit Rd)
Later at night, we were brought to the Red Light District...jeng jeng jeng! Haha. Patpong (according to my mini Lonely Planet book about Bangkok), is a non-stop sexual cabaret, luring a gawking public with circus-like sexual exploits and live sex shows. But of course I didn't managed to catch any of the live sex shows la cos when we arrived there, it was raining plus all we wanted to do was just to have a look at that place. While yumcha-ing at one of the cafe, there were a few pimps standing outside waiting for potential costumers. They usually approach the mat sallehs from my observation.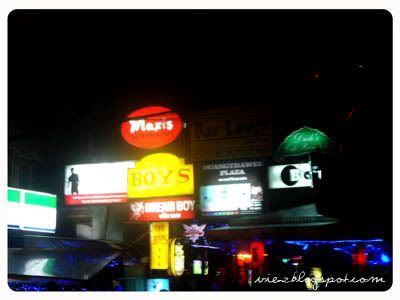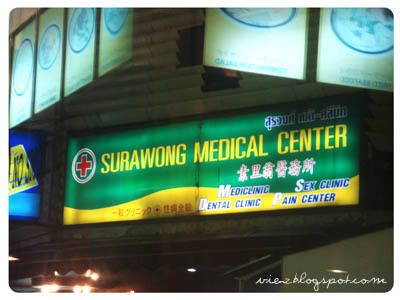 The all-in-one clinic. 
Hmmm...next visit to Bangkok, I shall try and see some of the live shows la...I mean I'm curious to know how is it like heh.
Aaahhhh...now it's time for the good part. FOODS! Thai foods are really sedap bah! Even though I don't eat spicy foods even chilli sauce because sia penakut pedas (haih, macam mana la mo jadi anak Kadazan jati nih??) but man, no matter how spicy the foods are, it still makes me wanna eat it!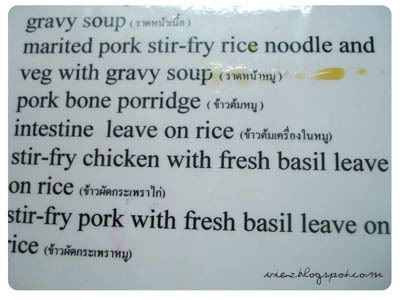 I must show you how interesting their menu is heheh. Do read it :)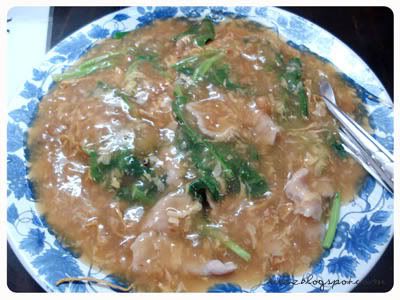 This way my lunch on the first day of arrival. Can't remember the name of this dish but it's something noodle with gravy...oh, can't remember man. Well, it tasted...ummm sweet? CY said it has a coffee taste in it.
For dinner we had these...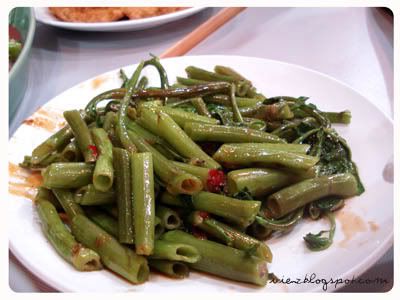 Kangkung belacan?? I hope I'm right.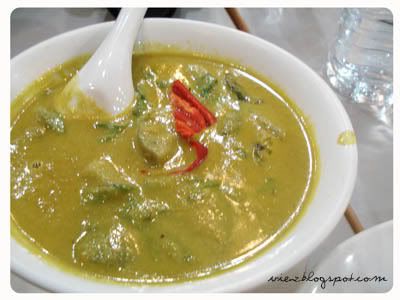 Super pedas green curry!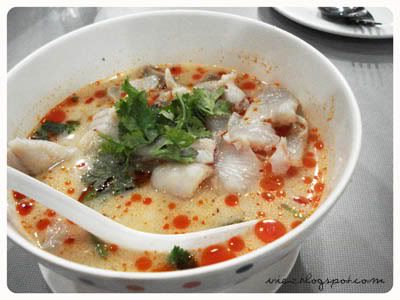 Tom Yam Pla (Hope I'm right too). It's basically Tom Yam Fish lah. This is another super pedas dish but sedaaap!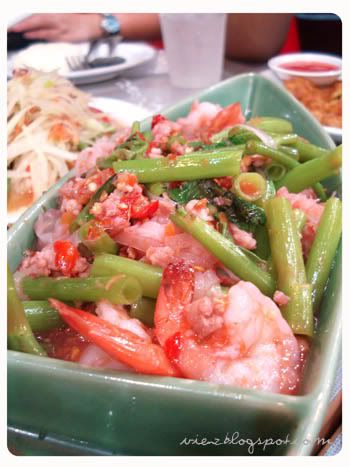 Can't recall this too but according to SH, it's the Thai version of Yong Taufu.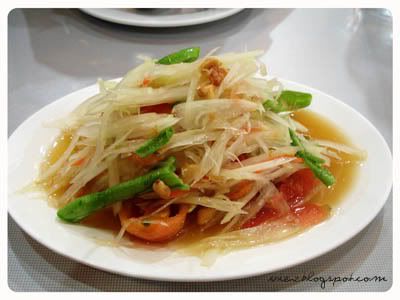 This is by far my favourite one. Papaya salad! I also realize that Thais like eating raw vegetables.
Oh..the Inn provides breakfast too.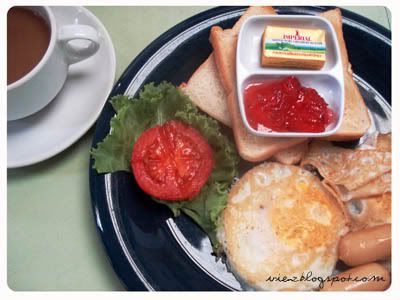 This is the typical American breakfast.
Second day, we had lunch in one of the restaurant (the mascot for the restaurant was a devil pig) in MBK.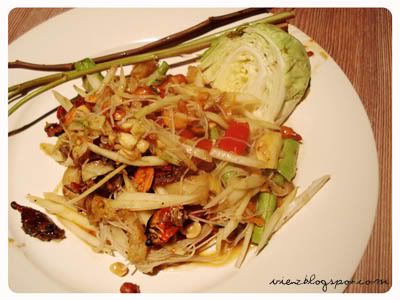 Another salad. Not sure weather it's papaya or not. Geez...I really can't recall all the names man.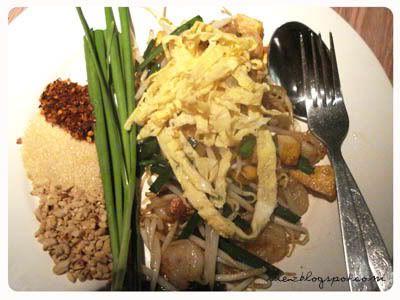 Pad Thai! I first tasted Pad Thai in Wanganui, there was a Thai restaurant called Thai House there and it was totally different from this one!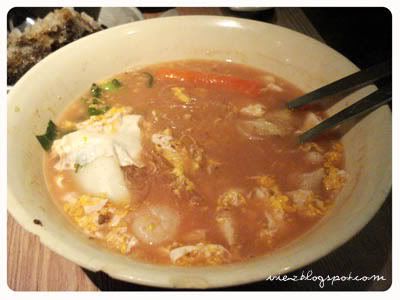 Nana's meal. Sorry...can't remember the name!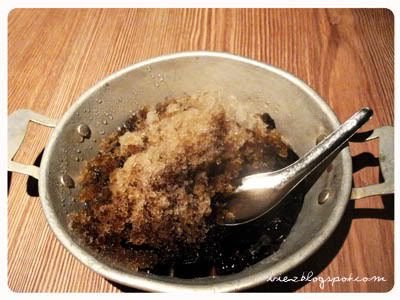 They called it black jelly in Bangkok and we called it cincau here. This version tasted good as well!
Later at night HH brought us to eat dinner at one of the stall on the roadside. For people who're very hygienic, roadside stalls might probably not be your thing la but for those who doesn't mind, I think it's good to at least try the foods there.
Raw veges.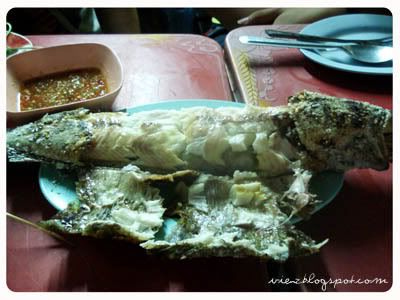 If I did remember what HH told us, the fish is cooked by using salt. Hope I'm not wrong lah.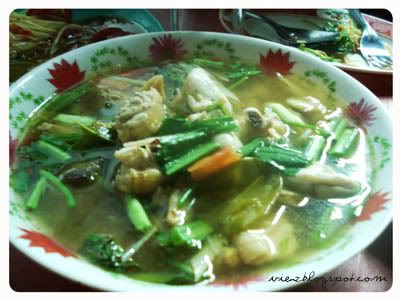 While we were happily eating, a baby elephant approached us!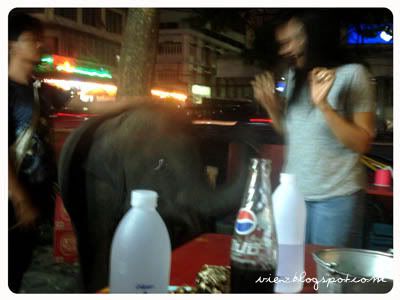 In a moment I was in fear cos I was thinking what if the elephant suddenly became amok and stepped everybody??? but nah, there were people who took care of it. You can actually buy sugarcanes to feed the baby elephant.
Third day lunch at Chachutak market, we had these...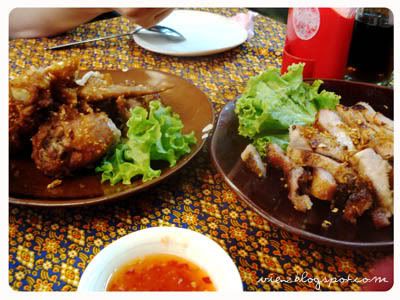 Lunch was served with sticky rice as well.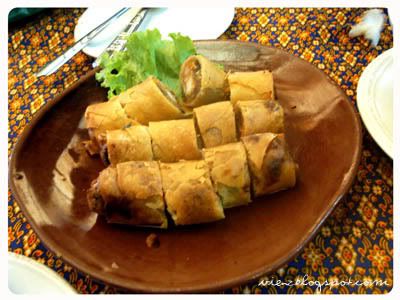 Thai version of spring rolls.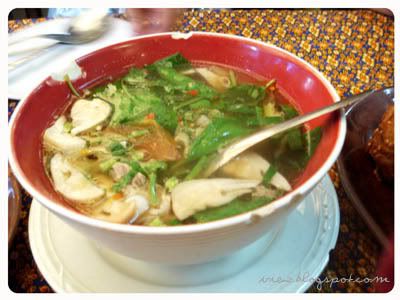 Tom Yam Goong.
At dinner before heading off to Patpong, we had...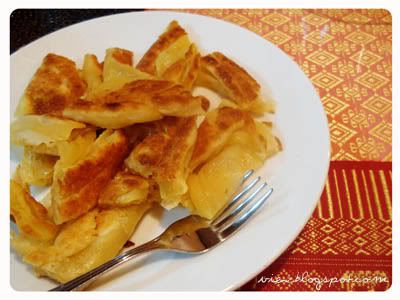 Roti canai!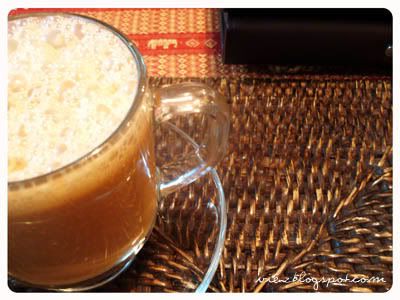 and Teh Tarik! SH brought us to a Malaysian restaurant that night as LS was craving for good ol' Malaysian foods.
Last day, before leaving the airport...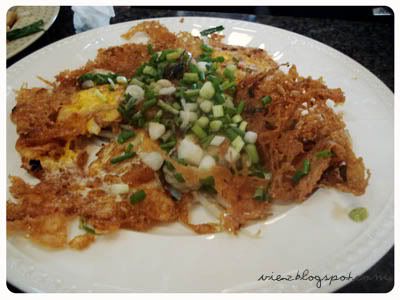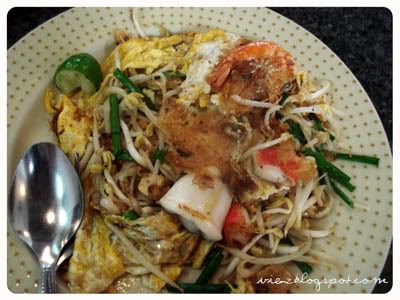 Pad Thai again!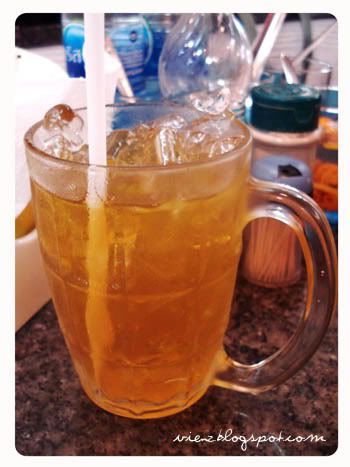 Very super sweet chrysanthnum tea.
While waiting for boarding at the airport, I had a cup of Moccachino...haven't had it for agesssss.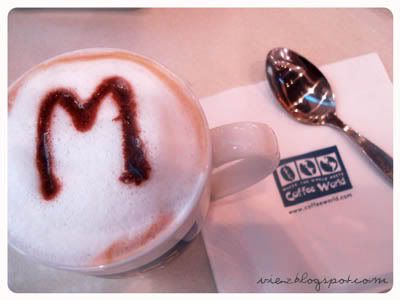 **Food pictures end***
There are a lot of interesting statues located in different area at the Suvarnabhumi Airport but didn't managed to snap a lot of pictures on it...probably my mind was already tired absorbing too many stuffs into my brain.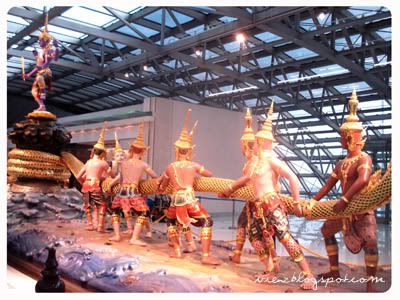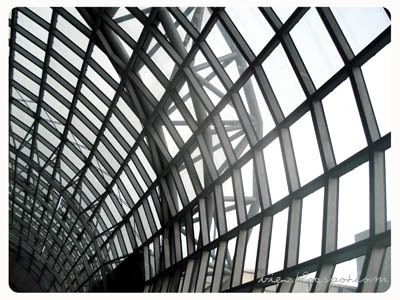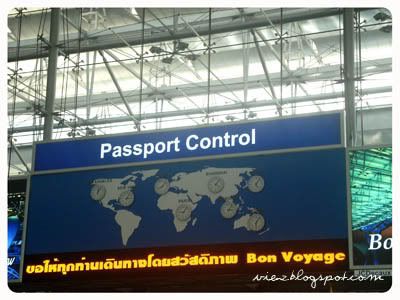 Phewwwww....so there you go! I must say Bangkok was a very eye opening city for me. Seen a lot of new and interesting stuffs and also discovered more on their culture. What kinda sucks was we weren't able to go to those landmark/historical places (we were at the city centre most of the time) sooooo...I shall save my money real hard so that I am able to come back here again and discover more interesting places that I haven't gone to venture yet!
Unfortunately, I wasn't able to meet up any of my Thai friends as well. Tang and Pat are currently still in Welly, NZ. I did called Tee up when I was in Bangkok but he told me he just came out from the hospital after donating his kidney to his father! I was so shocked when he told me about it. Anyway, he's allright la but according to him, he needs a month to recover so there goes my chances to meet him up. Well, there's always next time right? *crosses fingers*
Big thanks to HH and Shien for their hospitality! Really appreciate it.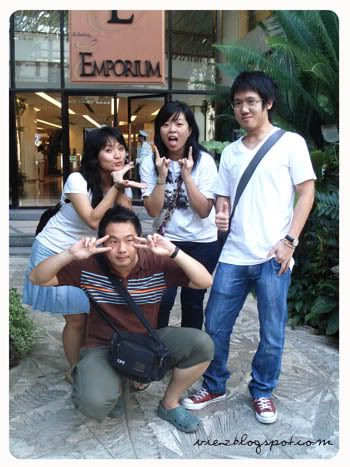 Shien and HH intro-ed us to their Thai classmate named...Tun Tun. (Hope the spelling is correct lah) Nice & friendly guy.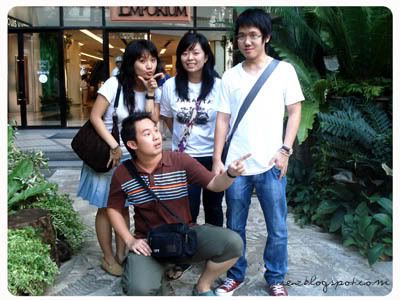 I'll post the remaining photos on the art & design exhibitions soon :) So yeah, BKK rocks! Did I mentioned that I saw a LOT of hot Thai guys there? Seriously, there are a lot! Hahah.
Now, I need to organise back all my thoughts and memories so that I am able to write up a 'report' to the big boss...*doomed*