OFFICIALLY done with this semester! Well, not exactly lah cos there are some more things to sort out before I can let out a huge sight of relieve. But I've finished doing all the gradings already. Had to stay and worked late last night and only reached home around 10pm. I did brought some works back but once I've reached home, my body couldn't function well anymore sooo...I decided to ditch my work and watch Down With Love for the second time on TV heheh. Oh...Estranged made it to the finals for Juara Lagu bah!
I'm still in the office now feeling super hungryyyy...mau makan. Anyway, blog more later. For now, I shall present you my Christmas list for this year...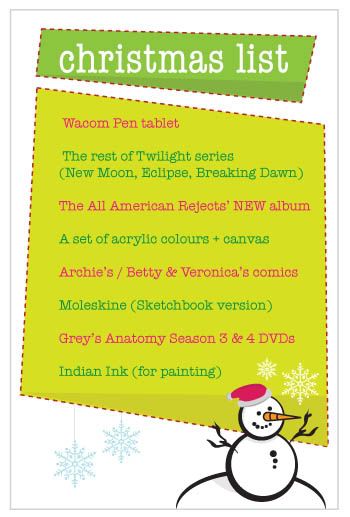 Actually, I will be getting the pen tablet myself since I am saving up for it not forgetting the New Moon novel and the acrylics...well, basically I will work my way to get all the things on the list lah.
Have a grrreat weekend! I miss watching football :(