[EDIT] Decided to change the polaroid-lomo photos...
Apart from black and white photos, I love photos taken from polaroids and lomo cameras too. I guess it's because the photos taken can be so random but yet still looked beautiful not forgetting it has that vintage and sometimes over exposed effect in it. 
♥ ♥ ♥!
But due to the fact that I have no moolah to get any of those two awesome cameras, I have to find an alternative to create the polaroid-lomo effect on my photos. And of course, with the help of Photoshop...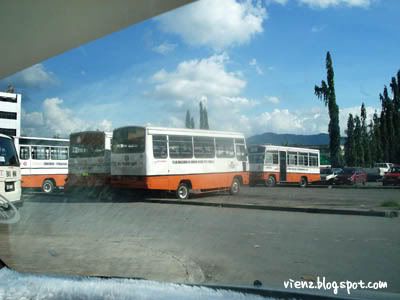 (photo taken at pasar Donggongon, Penampang)
The result might not be
canggih-manggih
since I am after all still very much a n00b. I'm pretty sure my students could achieve a better result than this. But I'll try to improve in any way that I can lah ok! Did this while I was in the office...was pretty bored during the last hour before I finish work :)
Anyway, I sat in my colleague's Design 2 class today and oh boy, entering a class full of students that I don't even know of is so...awkward because when R and I entered the class, all eyes were on us and not forgetting their curious faces. AWKWARD! But on the bright note, I heard one of the student said that we looked young *big wide smile*
Nah, kambang sudah sia ni kena cakap muda hahaha...
I will be meeting the fresh batch of students (January intake) tomorrow for briefing and campus tour and...I'm pretty sure it'll be another awkward moment for me and vice versa for the students. Wish me luck though. Work has been good so far, most of my classes will officially start next week so this week was a pretty laid back week for me. I didn't get the chance to meet the big boss on Wednesday because big boss was caught up with another meeting so I left after waiting in the office until almost 8pm.
Nuff 'bout work cos right now I shall present you
my grand niece,
Ophelia Athena Golingai
making her debut
 for the first time here
.
I'm still not sure what should she call me when she is able to talk. Nenek? Popo? Grand Aunty? Nana? She's sooooo adorable and I love seeing her tiny mouth moves while she is sleeping. I kept on wondering if she was dreaming... 
(Photo credits to Audrey Ambrose...she got this canggih d-cam now so the photos are very clear. Photo design is inspired by
orangeyoulucky
:) Love her work)
Ahhh...can't wait to see her again. Weekend's almost here!