MAN U
vs
CHELSEA
tomorrow!
iFeel 101
I feel that most of the time, I always tend to be taken for granted. The fact that I usually don't say no to any tasks that require my help doesn't mean that people could just dump all their problems to me and then chose not to deal with it themselves. I try to help in any way as possible without complaining because I don't like being in the middle of an argument or having to deal with other issues but sometimes...just because I hardly voice out my feelings, doesn't mean that I deserve to be treated like my presence are not worthy enough.
Maybe I should just be like Jim Carrey's character in Yes Man. *sigh*



/iFeel 101



Soooo...first week of the new semester wasn't that bad at all. The highlight of the week would probably be yesterday where I had to meet the new batch of students and then gave a short briefing, giving out the new timetable and also bringing them for a short campus tour as well. They were extremely quiet when I did the briefing and yes, it was kind of awkward again but it was just because they are so new and have not adapt the environment just yet. It'll probably need 2-3 weeks of them getting used to the college and the endless assignments that's coming real soon HAHAHAHA *evil laughs* 
I was asked by H, to do an impromptu lecture for the second Digital Design class (which was on 5.30pm) without preparing anything at all! Well, the afternoon session lecture was done by H so she asked to lecture the same thing for the evening class. I told myself that I can handle it but when it was my time to lecture and do the demo, (the class is about learning Adobe InDesign software btw), I kinda freaked out and butterflies were running definitely in my stomach. I haven't been using InDesign for months and to get familiarise to the entire software in a nick of time is not that easy, I can tell you that.
I realised halfway through demo-ing the functions to the students, I started talking gibberish and when I stopped and asked them if they understood or not, they said no. My eyeballs almost dropped out from my eyes! Okay, not really but for a moment there, I was stunned and the nervous, panic and worried feelings came crashing together inside me. 
Because I can't screw everything up, I had to calm myself down and sort of start all over again. So second attempt was better and the students finally did understand...well, at least I hope so lah. The class managed to finish their first assignment on time too. I guess, it did turned out okay in the end. Big thanks to H and some encouragement from the students, I survived the first Digital Design class! I'm not sure whether I'll still be asked to do more lectures in the coming lessons, but hopefully this time around, I'll be more prepared. :) And yeah, apologies for being a nervous wreck in class yesterday.
Today, I came in late for work as I had an errand to do in the morning. Had to get my access card from the management at my current place. Oh did I mentioned that I don't have class on Saturdays anymore? Yeah, apparently there were some changes on my timetable so I was lucky I guess to have no Saturday class anymore. 
Met up with Ivan in the afternoon at Kim Gary and then Ken came over later in the evening. Ken intro-ed me to his other half for the first time and when I saw her, I wish I could dive into a big hole and hide! Ken's gf looked like a supermodel! Beautiful, sharp features, slim, tall, nice complexion and compared to me...I looked the total opposite. Average, excess baggage on the tummy, short and pimples on my face. The only thing I could win over her would probably the size of my boobs hahaha..okay, not funny. No doubt a good looking man like him could get a beautiful gf anytime.
Well, gotta spend my Sunday doing laundry and watch movies from the DVDs that I borrowed from my bro. Oh, need to do grocery shopping as well since I am able to cook at home now. Sweet! 
Some KK pictures!
The night before I left for KL which was on New Year's day, Jesse invited me to go to the Euro funfair in KK, just opposite Karamunsing with the rest of the cousins. This time the little ones were included (Adik, Nado and Whitney). I don't really enjoy the pleasure of going to funfair/amusement parks but since it was my last night in KK, I decided to join the cuzzies lah.
The first ride that we took was this 360 degree thingy, not sure what's the name of it but there's a guy who dances along with the music in the middle. It got so funny during the middle of the ride...berabis bah kami ketawa non stop ni :)
Then Merl, Drey, Bonol and I went for a ride on the ferris wheel. It wasn't that fun cos when we were exactly on top...my
acrophobia
suddenly hit on me. The ride was quite expensive as well. RM6 per person! Oh, the last ride that I took with Merl and Drey was the Ghost Town ride andddddd it bloody wasted 15 seconds of my life! Punyalah tidak bikin takut pun. Kena gantung patung-patung ja ishhhh...Pleeaaassse don't be an idiot like me to go for this dumb ride ok! The night was fun because I've got great company heheh and we shall do this again sometime soon :) 2 more weeks to balik KK!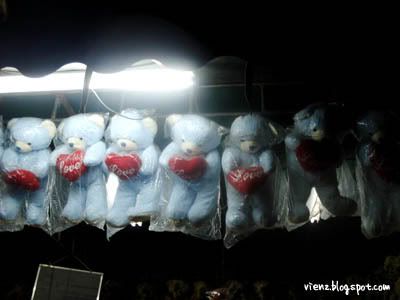 Look at the tortured teddies...kesian bah.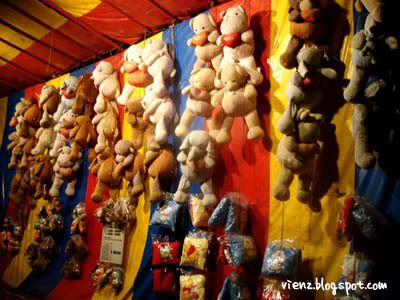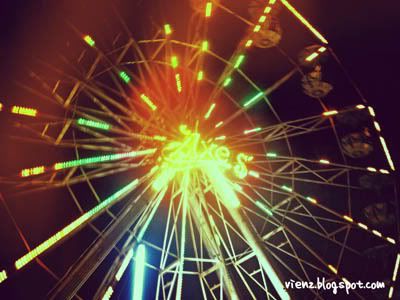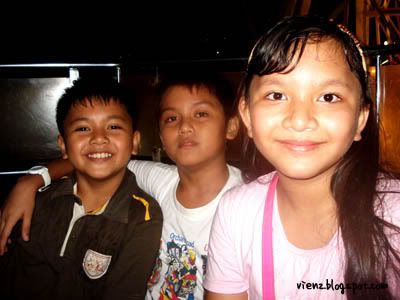 The little ones (Nado, Adik and Whitney) that we the grown ups have to baby sit on that night.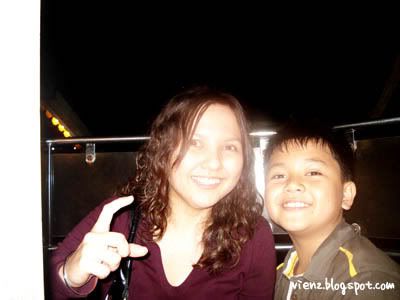 These two pictures were taken from Drey's new d-cam.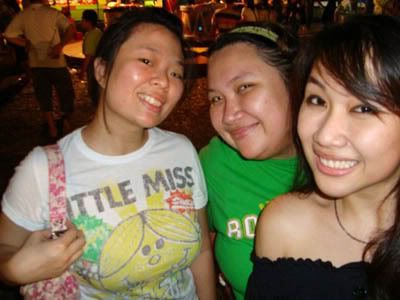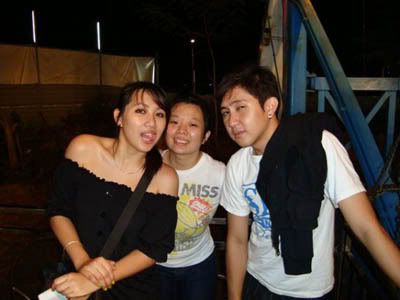 Have a grrreat Sunday!