I watched Marley & Me yesterday night and as much as I tried to hold back my tears, I just can't. Such a heart warming movie, it made me miss my dogs and cats back home. Well eventhough they are kampung dogs and cats, I still love 'em.
Yeap, I was supposed to tell the news as promised. So, about two months ago my then Head of Department(HOD) told me that I would be deported send to another state to teach. But when the HOD informed me about the news, it wasn't really 100 percent confirmed yet. Just that, the college sort of suggested my name to go and teach at the college's new branch (which is coming soon). I really have no idea why my name was suggested but I reckon it must be
a) because I am capable enough to handle this task.
b) I currently don't have any major commitment (like getting married, or having children) hence I can take up the offer.
c) The college doesn't think I am worthy enough to work in KL therefore they are planning to deport me to another state haha.
Okay, I'm kidding on the (c) reason. But I guess most rational reason would be (b)? Few weeks ago, one of the senior lecturer talked to me about this plan again and what are the things being offered if I actually take this task. One thing I'm glad to know is that it's going to be a back and forth thing, meaning I won't be staying at the other state permanently but will still be based here in KL. I'll give you hint on which state I'll be going...the place is famous for its Char Kuey Teow and Laksa.
Oklah it's Penang bah =D. As I said, I probably will need to stay there for like two days and be back in KL again after that. So, after giving much thought I have decided to take up the offer BUT at this moment I am still not absolutely sure whether I am confirmed to go there or not. We shall wait and see lah. This is just to inform you (my family and friends), who actually reads my blog about this news :)
/end of news flash.
This morning I received a call from Loong, one of my college bestie all the way from Singapura! Well, we actually planned to go to
Sunburst Music Festival
together since we did talked briefly about it last week on msn but turns out...we won't be going to Sunburst after all :( I'm gonna miss it again this year. Really wanted to see N.E.R.D perform but what to do lah. He said I should come over to Singapore and kawan him to see N.E.R.D perform instead haha. Yeah, maybe I should pay him a visit one of these days. I mean, I've only been to Singapore once and that was way back when I haven't even hit puberty yet.
You know what? I think my sleeping problem is slowly crawling back again! How can this be? I was able to wake up early successfully last month but now, it seems to be a failure again. It's just weird cos no matter how tired I am from working, I'd still end up sleeping past midnight like on Monday night, I slept at 3am. This is bad.
Aight, on to some random pictures. I was planning to join Project 365, where you take a photo a day for 1 whole year but I guess I was too late for that.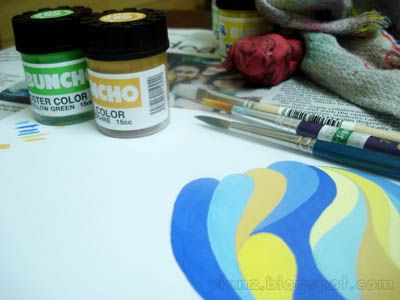 The reason why I actually slept at 3am on Monday night was because I was up doing some painting and experiment on colours (for class purpose). This was also the time when I sat on the floor for more than 4 hours which made my back and neck in pain.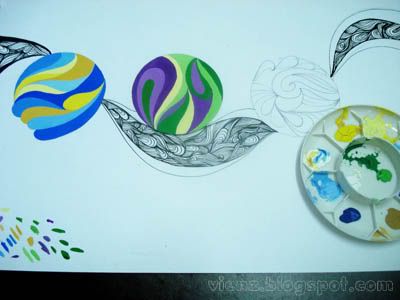 Wasn't able to finish it so I'll continue it by tomorrow *crosses fingers*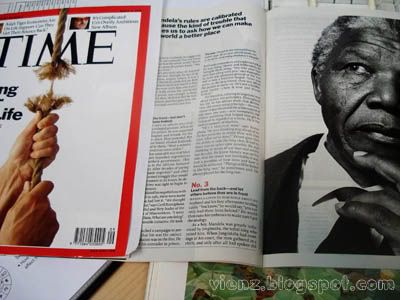 Received two free copies of backdated TIME magazine cos there was a promotion going on in the college so a good man came into the office and gave us free copies! I was reading the article about Nelson Mandela. Wooo...I feel so intellectual now hahah.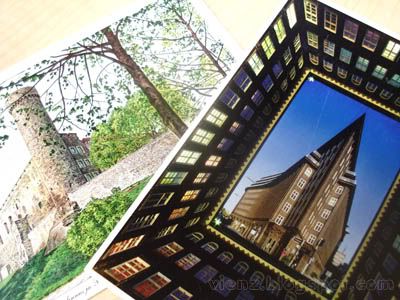 I received postcards from random strangers last week! I recently join this project called
postcrossing
where you send postcards to random strangers from around the globe and then you'll receive back from random strangers too. The left one is from Estonia and the right one is from Frankfurt, Germany.
Then, another postcard arrived yesterday all the way from Texas.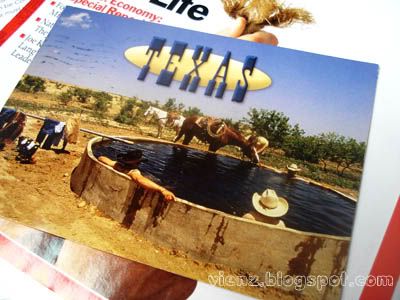 Love the stamps too :)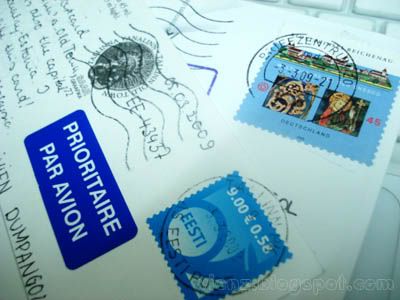 Weekend's almost here! Can't wait. Okay, going to get my weekly dose of How I Met Your Mother now. Still love love love the show!