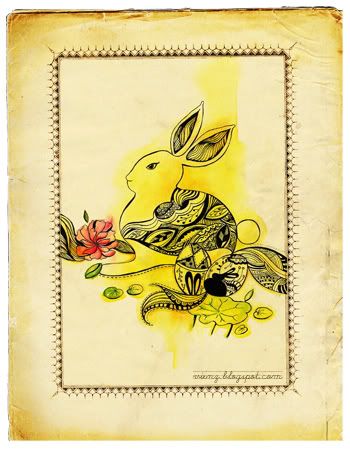 Happy Easter everybodehhh...due the fact that I couldn't wake up early for the English mass in the morning, I had to attend the Mandarin mass which I can only understand about 30% of what the priest was saying anddddd on the way to the Kelana bus station, I stepped on a fresh dead rat! I thought it was a fruit but when I looked down it was a damn friggin' rat. Eww.
BTW, here's an Easter bunny for you! That time when I was computer-less at home, I managed to finish this. I used Indian Ink to do the black outlines. Haven't been using Indian Ink for a long time and yes, I totally love it although sometimes it's not easy to create really fine lines. Got to practice more on it :)
Coloured the base using water colour.
Spent the rest of the day sleeping (since it was raining, hence a very good reason to sleep) but got awaken by a phone call from a student asking about the final submission tomorrow. *sigh* Anyway, I'm going to makan now. Hope you had a great Easter Sunday. You know, I miss receiving Easter eggs...