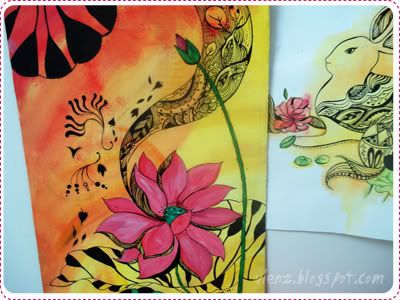 Gesso, acrylic, indian ink on recycled corrugated board. Full view on my
deviantart.
The last time I used acrylic was like back in year 2003? Yes, definitely ages ago. Wasn't exactly my favourite medium to use 'cos acrylic colours for me are not as easy to control unlike water colours but I told myself that once I get my salary, I would buy acrylic colours so that I can have different type of medium to experiment on from time to time. Art materials can really cost you a fortune! A bottle of gesso already cost RM20. Can you believe it?
On the other note, this year's Barclays Premier League title goes to...Man United. Yeshhhh! I did not even watched last night match 'cos I thought they were playing against Arsenal today but I'm sure/hope I'm not gonna miss the Champions League finals even if the match starts early in the morning :) Better luck next season Liverpool hehehe.
I haven't started preparing for tomorrow's class! I should be doing it right about now.
Happy Birthday to Eve and Jo who turned 25 today!