...is the title of
Incubus's
brand new single!
The band is releasing their Greatest Hits album called Monuments and Melodies on June 16th and I hope it's going to be available here! Brandon Boyd has a short hair-do now and I still like it
♥
! *big wide smile*
My favourite contestant since the beginning of American Idol, Danny Gokey has been voted off this week! What in the world???? Okay, I know that I am torn between two lovers (wtf lol!) Danny and Kris BUT I've always thought he(Danny) will eventually make it to the finals. I've mentioned it to one of my colleagues on the first week of the top 13 show that Danny will definitely be in the finals. But sadly he didn't...sayang oh kan? *sigh* And yes I umm...did cried because I am emo like that :P
Here's another update on the rest of my classes during the past few days. On Wednesday, I wanted to show some slides to the students for their first lesson but apparently the classroom that has been arranged by the college doesn't have a projector plus the power supply in the classroom seems to have a problem hence I couldn't switch the computer on. Now this time, it wasn't me who screwed things up but it's that classroom! Why would they give me a classroom that doesn't have a projector when they already knew that that particular class requires it? So I've no choice but to show it next week *sigh*
Yesterday I had another solo class and this time around it was Computer Graphics class. Didn't realise that I talked soooo much during class that I had to keep drinking water every single minute. But the good thing about yesterday's class was that the students seem to learn very fast and did not even ask a single question. That's err...quite impressive I guess:) So this week so far has been okay despite some little itsy-bitsy things that tend to piss the shit out of me. Sometimes I wonder how did I get all my patience from?
I've mentioned that one of my goals this month was to do a painting to give one of my bestie on her birthday. So the past 3 nights or so, I decided to do the painting but in my honest opinion, I screwed a part of the painting and it's just sooo frustrating lah. I added some unnecessary elements there and now the entire painting doesn't look balanced anymore. I'll post the finished version as soon as I get it scanned. Meanwhile, the work in progress photos: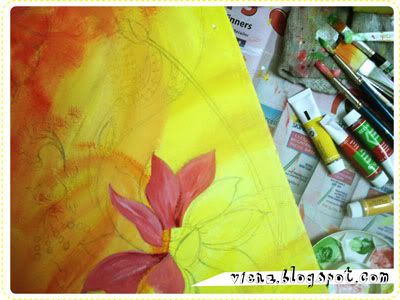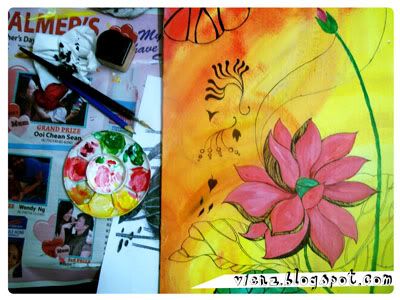 See that black outlined patterns on the left? That's the one that I'm talking about.
My sleeping time is better now though I still end up sleeping at 2am at the maximum, but it is way better than 2 weeks before. So yay! Oh have I mentioned that I have Saturday class this semester? Soooo many things to do lah...
Enjoy your weekend everybody!