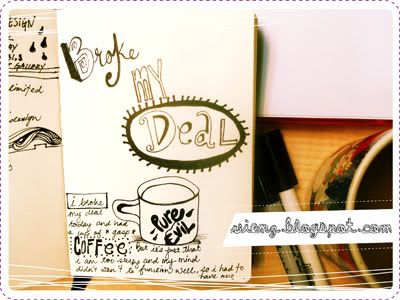 I had a deal where, I will not or at least try not to take coffee everyday like I used to so that I'll be able to sleep earlier and I've been successfully doing that for the past 2 months well, at least for the coffee part. But today, I broke the deal because I was feeling so un-energetic at work. It feels like half of my body and mind is still sleeping and it must be a micracle that I still managed to finish my slides for tomorrow's class. So, had my caffeine fix (coffee was strong btw) already and I am pretty sure I'll have a hard time trying to sleep later.
Anyway, just a mini update on how my first class went. Well, surprisingly it went ok! Probably because I prayed really hard the night before heheh. The students seems to be responsive so it took away my nervous-ness being surrounded by them AND they even laughed at my jokes that I've attempted to make. It's lame la but at least they laughed so I'm taking that as a good sign, no?
The downside on the first class would be that masalah teknikal switching on the computer in the beginning of the class which made me running back to the main campus to seek help from the IT experts. The weather is driving me insane! Seriously the heat is almost unbearable now. I reached home from work today covered with sweat, loads of 'em.
Will need to do another lecture tomorrow. I'm not exactly 100 percent ready yet but then, I should be fine lah. Aight, Ugly Betty is airing soon. Babai!