You know, whatever I said about me looking forward to a new semester...well, I might wanna take that back 'cos the new semester starts tomorrow and I just found out on Friday that I am handling another subject all by myself on Monday morning! I am actually quite familiar with the subject (Finished Art) since I've took it during college time and tutored H about 3 semesters ago? But the thing is, NOBODY in my department has ever told me that I'm handling this subject hence making me not prepared for tomorrow! All these while, I've been sort of preparing for the other subjects that I knew I was going to teach but not Finished Art!
I'm not going to lie but I got really really pissed when I found out about it because WHY am I not informed all these freaking while? *sigh* Anyway, can't complain much cos whatever it is the class still needs to go on and *crosses my fingers and by God's will* everything will be okay when the first lesson starts tomorrow morning. So wish me luck people!
Arts For Grabs on Saturday was nice, I guess partly because the KL Alternatif Book Fair was held at the same time as well. Part of the reason why I wanted to go to Annexe was because I wanted to watch Marion D'Cruz's Gostan Forward solo performance BUT unfortunately I missed it because I decided to have lunch with Ivan before heading to Annexe. I would've cancelled the lunch but since I haven't seen him in a while, I thought of meeting him and just to catch with what's been happening around. So when I finally reached Annexe, the performance has already ended. It took me friggin' one hour just to reach Pasar Seni. *sigh* I probably have mentioned it before that I never liked going down to KL during weekends cos of the traffic and crowd. Cannot tahan bah.
Didn't took much photos when I was in Annexe but here's
Flanny's
photo for KL Photo Awards hee~
It's the one on the far right.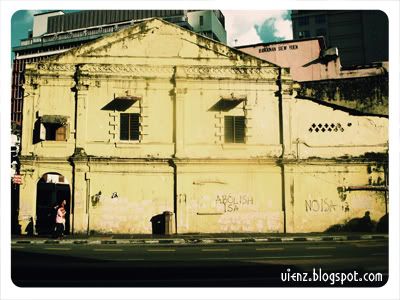 This was taken on the way to the bus station in Kota Raya.
Well, tomorrow will be a good day I hope and no screwing up on the first lesson! Have a good week ahead everybody. Peace out.