I finally signed in for
Twitter.
Well since June 1st to be exact. Reason being, is because I won't look cool if I don't have a Twitter account haha. NOT. Just wanted to try it out actually cos I think it's easier to update with what I'm currently up to via Twitter. Anyway, I've only got like only 3 followers...how sad is that? But you can follow me if you want and I'll do the vice versa to you too. Might be considering to privatise my account one of these days...we'll see how it goes first :)
So it's been like a week since my last update. Been wanting to blog but over the week I've been feeling demotivated over everything, work especially. No idea why but it's probably because half of the semester is gone and I just felt that my motivation to work is slowly pulling me back. Not a really good thing I tell you but...I don't know why I am feeling this way. But anyho, the 'exploration' week is here and I won't be having classes on some of the days so hopefully, during this really short break, I'll regain my motivation back. I think part of the reason why I get so demotivated was because I somehow got quite disappointed over some students whom I felt did not put extra effort in their assignments.
I am not sure whether it was me that did not deliver enough lectures/info/references/demos for them or it's just them who just couldn't even bother to work really hard. Most of the time, I'll take the blame but the other day, I was browsing through google reader then I found this:
Yes, I constantly need to be reminded of this! I used to ponder during the nights when I am home, thinking and analysing on reasons why this and that happened at work or why there are students who just don't give a shit on whatever you're telling them to do. But at least I did tried to do whatever I can right? It's not like I'm the one who needs to be blamed for trying. So yeah, I need to learn to move the f**k on even if I get disappointed on things that doesn't go my way.
Other things that has been happening for the past week...
The death of the King Of Pop.
Wow...it is still unbelievable to know that MJ's gone. I mean, I wouldn't say that I am the craziest fan of him because if I am, I would've owned all his albums but I've got only one and the rest of his songs were downloaded cough*illegally*cough. But still, I did grew up listening to his songs like Thriller, Beat It, Bad, Black Or White...etc and I knew very well that he's a global icon. That morning when I found out that he's dead, I was walking to work listening and singing to PYT (one of my fav songs) on my mp3 and then I was greeted with the news that he's gone on yahoo's homepage. I was seriously stunned! I was staring at the computer screen thinking, man is this for real?' Took me a while to finally absorb the fact that he really is gone.
Putting all his controversial stuffs aside, I honestly think he's a true legend and it saddens me to know that he'll never continue making those great music anymore. During one of the yamcha nights that I had with Ivan, there was one time where we talked about how excited we were to know that he(MJ) is making a comeback concert this coming July. We were looking forward for people to post videos in youtube so that we'll have the chance to see how the
This Is It
concert going to be. Looks like we won't have the chance after all :( Anyway, RIP MJ! Will always love your music.
WSD Alumni Gathering
I was invited to my grad school,
WSD
alumni gathering last Friday since the ex-principle Prof. Hazel was in town for the postgrad Asia fair which was held last weekend. So the initial plan was to go to Padi House (just a few metres away from KLCC) with Zahariz BUT on that day of the gathering, he sent me a text message saying that he couldn't make it. Basically he ffk-ed me lah. Sooo...I had to take the public transport to go all the way down to KLCC alone! Had a pretty good time there, I don't exactly know half of the people there to be honest. Managed to meet my 'external moderator', the one who I had to present my degree project to (thinking about it makes me feel so emo wtf) but I doubt she still remembers me haha.
Good to be able to meet up the seniors Dee, Kenneth and Lina plus my coffee buddy/batch mate Tok! I haven't seen him for almost 2 years! Hazel was still as nice as ever cos she gave each and everyone of us Chocolate Fish lol! Man, how miss eating that :) Back in grad school, Hazel used to give students chocolate fish as a treat if we did something well and I remembered I did received one or two from her before. This is a photo that I stole from WSD's Facebook cos I am too lazy to transfer my photos into the desktop hehe.
The chocolate fish has a new design now. The last I remembered, it used to look like this:
Transformers Revenge Of The Fallen
Err...everyone seems to have watched the movie already and I am one of the less unfortunate person who still haven't watch it yet. I also felt that everybody seems to "know" a lot about the robots and all that stuffs even for those who've never watched the cartoon before but to tell you the truth, I am still pretty much a n00b when it comes to knowing all the characters and the story in Transformers because I remembered I don't really watch the cartoon when I was young. I was watching Jem and The Holograms all the way haha. Will probably catch the movie today or anyday this week. You know what movie that I am currently looking forward to watch? The Proposal!
This pretty much sums up what's been going on last week. I did had a good weekend as well despite having to do quite a lot of house chores urrgghhh...my room is in a huge mess again and there are still unfinished laundry to do. Oh, I did a painting too but it's still halfway done. No idea why I actually wanted to draw a rooster this time.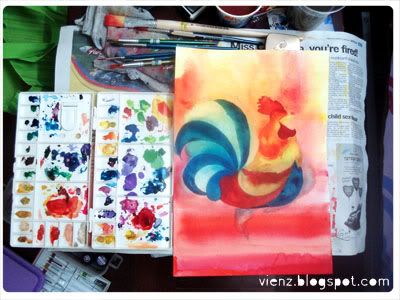 Haven't had the time to post more photos of Shah's wedding. Guess it needs more time lah. It's already friggin' 3am! This is why I shouldn't drink coffee wei. July's coming soon! Anyone wants to go and watch Akon in Sunway Lagoon?
Well, better head to bed now. I'm leaving you with my most favourite song by Michael Jackson, Rock With You. Have a good week people. Stay out of trouble hehe.