**this post is written by vivien dumpangol, don't get it twisted aight.
Wow...so where do I begin? I know I've been sort of isolating myself from the blogsphere for the past 2 weeks or so but I do have my reasons:
1. After Jesse, Drey and my brother left for KK I was down with flu and a light fever (nothing serious cos I recovered few days after) and everytime when I reached home from work, I was restless and lazy so what I did most of the nights was watching re-run of Friends. Currently in season 5 hehe.
2. Work. Yeah, the time has come where I have tons of gradings to do. Can't wait get it done! The term break is soooo near now.
3. Personal reasons. (There's a reason why I need to put that little disclaimer up there) Nothing serious as well so no worries.
Anyho, it is already August! Can you believe it? New month means new goals. But come to think about it, I didn't actually made any goals for the month of July but I finally managed to finish reading a book and my rooster painting is still...in progress haha. Okay, let me start about this MTV thing that I went yesterday afternoon at The Curve.
About two weeks ago I saw the
MTV World Stage
ad on Star paper and I thought, 'Wow, I am gonna find my way to get 'em passes!' I wouldn't want to miss seeing The All-American Rejects performing live, I mean I've liked the band ever since they released their first album and this is the perfect chance to see them. Plus, MTV World Stage is going to be held in Sunway Lagoon! Sooo easy for me to go right?
I guess yesterday was my lucky day because I managed to get a pass to be in the Mosh Pit area. *squeals like a fan girl lol* You know how? By embarrasing myself jumping up and down as if I was in a real concert. I didn't wanna do it at the first place cos who knows there might be people that I know watching me or worse, my students! But then I thought, it's now or never man...so I did it and got the MTV sticker pasted on my arm ANDDDD...that's how I managed to get the Mosh Pit pass yo. Mind you, I was standing there alone surrounded by squealing tweens who wants to go to MTV World Stage to watch Boys Like Girls pffffttt. Anyway, I can't wait for this :DDD Been a long time since I went to a concert. Tyson Ritter, can't wait to see you!
About 3 weeks ago Jesse and Drey came down to KL to watch Man United vs Malaysia XI in Bukit Jalil Stadium. They were here for only 3 days but still, it's always nice to have people you're close with around :DDD The night when both of them arrived, we went to Bubba Gump Sunway for a lovely family dinner. My brother and Evor was there too so it just felt like home to me. Foods were nice but the portion could be more like in Manhattan Fish Market hehe. I lurrrve the whole ambience of the restaurant, seriously. I love all the random woods that were used to build up the walls and also the usage of random license plate numbers pasted along the walls. Niceeeee!
Then we adjourned to Borneo Rainforest for some fun and err...moginum time. I didn't wanna go at the first place...well knowing me, a very very boring person who loves to stay at home most of the time and hardly go out to have fun -_-. But seeing that my cousins are here and all, I decided to join 'em and also it was a good excuse to release stress that I get from the students hahaha. We met up with Jesse's high school friends Astra and Darryl, who were also my juniors back in high school as well so... Penampang people unite!
To be honest, I did had a good time when I was there. I hated how my face turned red as a lobster in an instant though urgghhh. This explains why I don't consume alcoholic beverages often. I'm probably allergic to it la. But good thing was, I didn't get drunk at all. My brother, on the other hand...at one point I was sooooo annoyed with him, I just wanted him to shut the eff up haha.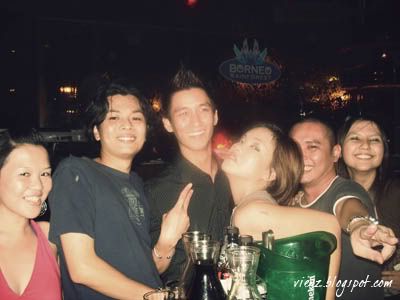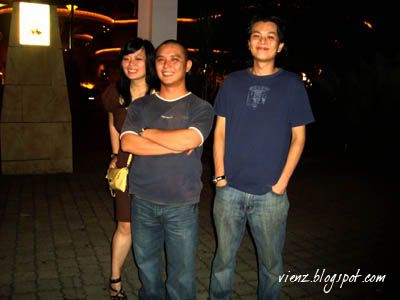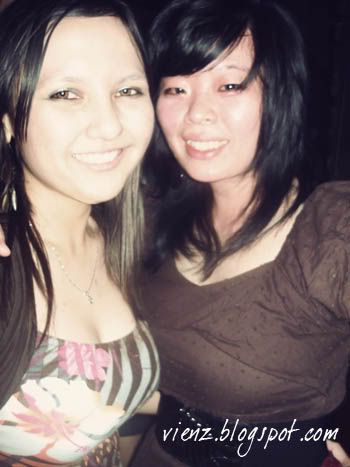 Okay, my face doesn't look that red here becasue I've adjusted the brightness/contrast of the picture. But you can see that my eyes has turned red too.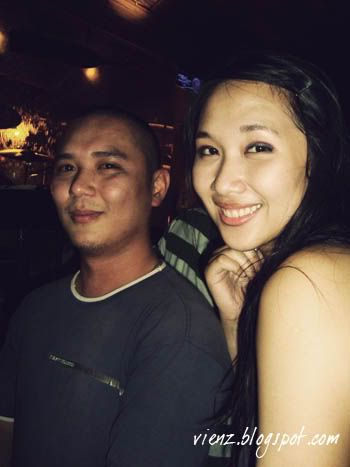 Twas a night filled with fun and laughter...I only managed to sleep for less than 3 hours and then I had to go work the next day and hear out the final presentation for one of the Visual Communication class. My anger was boiling towards the end of the class and if I could, I really want to tell the students off but I just HAD to control it sighhhhh...
Anyway let's not talk about that anymore...later in the afternoon Drey, Jesse and my brother headed down Bukit Jalil Stadium to watch the beautiful game. Evor didn't joined us because he was sad that Cristiano Ronaldo is not with ManU anymore hahahaa. *kidding* Once we reached the stadium, it was already filled with people wearing mostly red shirts everywhere.
To sum it up, the entire match was fun to watch, and it was seriously such an exhilarating experience to be able to watch Man United team play right in front of you! Thumbs up to the Malaysia team as well as they managed to secure two goals during the match :) Oh, Michael Owen is sooo small! And Rio Ferdinand and Macheda are realllllyyyy tall haha.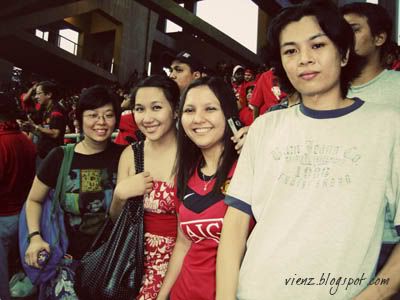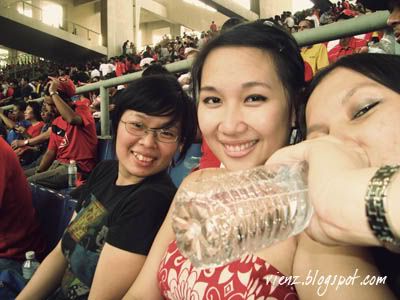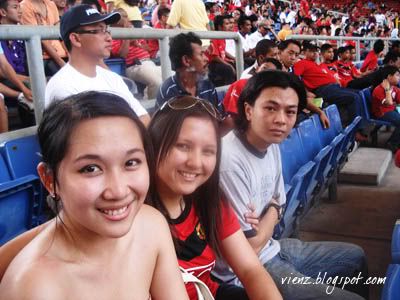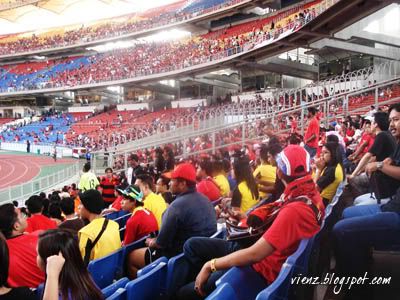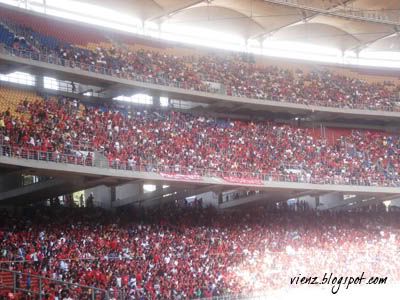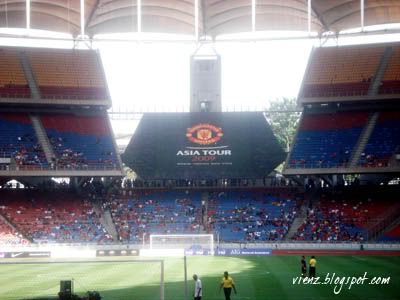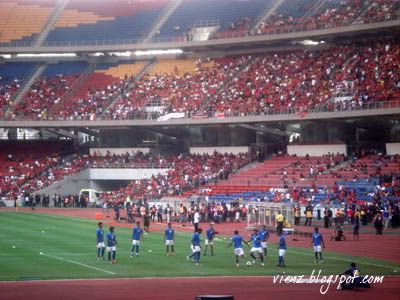 Team Malaysia doing the warm up.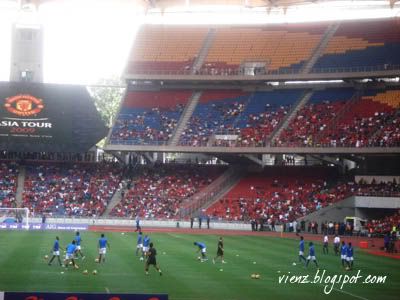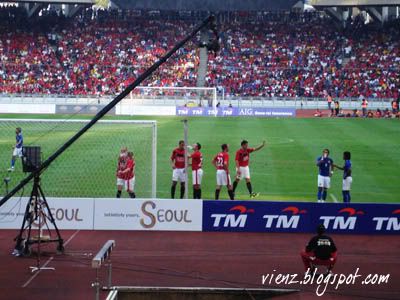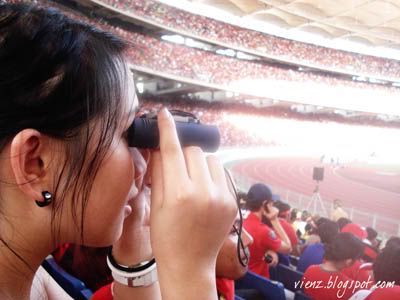 I brought along this mini binoculars (not very canggih one) which I borrowed from my dad.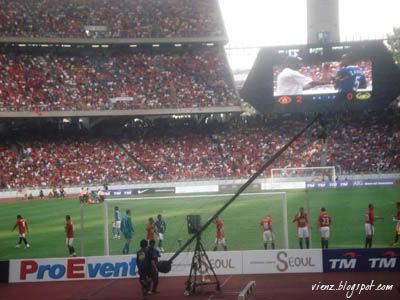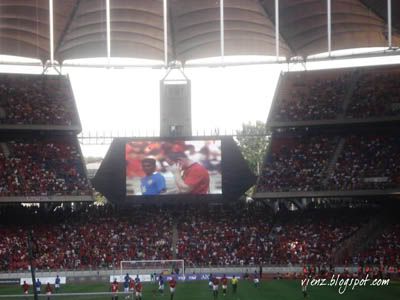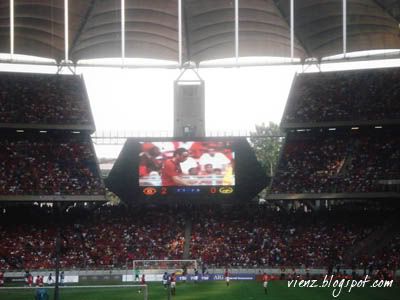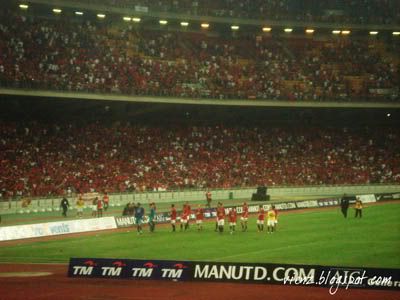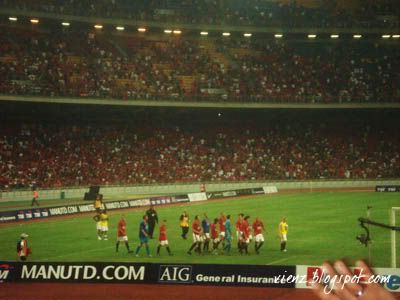 More pictures on my Facebook
here.
**some of these photos are courtesy of Audrey Ambrose**
So that pretty much sums up the things that I've wanted to blog about :) I spent my Saturday hanging out with Ivan and Ken in Sunway. Ken, who was recovering from food poisoning was being super drama because he was telling me that he thought he was getting a cancer(touchword) since he never felt sooooo weak and then he moved on to tell me that he's ageing la bla bla bla...to which I replied him with a pair of rolling eyes haha. He's still a healthy man fyi, well probably he should just cut down on the amount of cigs that he smokes every day then he should be fine :)
Anyway, here's what I want to achieve for the month of August:
1. Finish all my tasks (this also include all my drawings, paintings, readings and all the work in the office!)
2. Eat fruits everyday or at least 5 times in a week?
3. Jog/swim moreeeee! If I can la...but I highly doubt so haha.
4. Watch a movie in the cinema. G.I Joe!
5. Can't think of anything else.
Hope you will have a good month ahead. One more month before I'm gong back to KK again wheee~ Till the next post, be safe people!