AAR performing Gives You Hell.

The Likes
The performers. Well, to be really honest I am only familiar with 4 bands: Estranged, AAR, Boys Like Girls and Hoobastank. I've only heard one or two songs from Kasabian and Raygun so I don't know much about them and I've no idea who Pixie Lott is hehe. She reminds me of another singer called Duffy btw. Can't really blame me though, I don't have cable TV here so I've not been watching MTV channel for months and it's been ages since I listen to the local radio here. Been listening too much of internet radio that's been playing the same songs most of the time. Still I think all the bands were good, energetic and did gave it all out for the show. I did enjoyed all the performances especially AAR because I know all the songs they were playing :)
Tyson Ritter and Doug Robb :D Tyson covered his body with glitter and he was doing some weird dance moves during his performance...I've no idea why, must be high or something but still very enjoyable to watch hehe. Doug Robb on the other hand was THE best dressed vocalist of the night!♥ Heard that AAR is coming back for another show organised by DiGi in October (hmmm no wonder la the latest DiGi TVC is using AAR's song) anddddd I'll try my very best to get 'em tix again.*crosses fingers*
Lighting and background graphics. I reckon the lighting was superb and I love all the background graphics that has been displayed.
The venue. MTV picked a good venue because

I stay in Sunway hehe

I didn't feel cramped while standing with the thousands of people who came and thankfully, those people were a little more civilized compared to the people at the Linkin Park concert that I went in Stadium Negara 5 years ago.
The Dislikes
That beyotch who stole my standing place! Not that I'm being super 'kiasu' or anything because I got to stand right in front of the stage (hey, I got the mosh pit pass what) but this girl (she has a

GOLD

pass btw) suddenly came over from nowhere, squeezed in her entire self right in front of me and just stood there until the end of the show. She didn't even ask or apologize WTF! Pissing me off man. Then, there was one time she accidently smacked my crappy camera while I was taking a video of AAR and I was expecting an apology but nooooooo...urrgghhh I should've just smacked her head man.
No bottled water. I dunno why the mosh-pitters wasn't allowed to bring bottled water into the mosh pit area. I mean what if we get too dehydrated and then suddenly pengsan and stuff? This thing do happen right? Oh, since were not allowed to bring water bottled in...they were selling one bottle of mineral water for friggin' RM5. Ko gila ka ni? Butul-butul la ambil kesempatan bah kan?
Not much dislikes actually cos I honestly did had a good time there. You know I don't always get this lucky to be able to get a mosh pit pass, heck I had to embarrass myself just to get one. Plus I have missed quite a number of concerts this year like Sunburst, Jason Mraz and even Lee Hom hehe...yes, I do listen to chinese songs too but only selected artistes lah. So this time around, I didn't want the chance to miss out MTV World Stage because I know I'll regret it since it was held in Sunway somemore. So yeah, I sorta worked my way to get the pass and I couldn't be more happier. Need to say thank you to Elsa and Nash for the company too. At least I've got friends to go with at the very last minute. Thanks again. Man, I really really need to get more friends huh?
Anyway, there was an after party held in MOS on the very same night which I did not attend because I am pretty much a loser anyway haha I didn't get any invites, sad to say. Ivan called me to ask if I'm going because he thought that the people who managed to get passes to MTV World Stage will automatically get invites to the after party too. Well, apparently if doesn't work like that. The next day I had a really late brunch with Ivan and Ken in Old Town and that was when they told me how awesome the after party was because of the foods, free flow of booze and of course the ladies. Ken even told me that VJ Denise smiled at him when they were crossing paths haha...good on him! Well, glad the two lads had a good time during the after party, whereas I stayed at home thinking about all the groupies who were trying to get a one night stand with any of the bands hahaha. Okay, I'm kidding on that part. I actually went home, took a shower, surf online and slept till noon hence the reason why I went for a really late brunch after.


Peekturrrreees...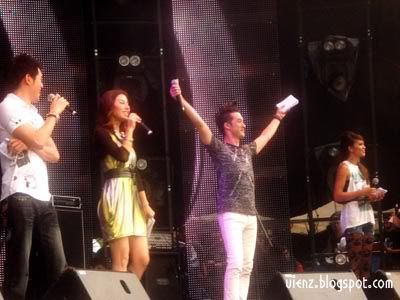 The MTV VJs came out first for some warming up session haha.
Left to right: VJ Andy from China, VJ Denise, VJ Utt (man, can he really fit in those tight white jeans?), VJ Taya and there's another VJ from Korea named Sean (not seen here).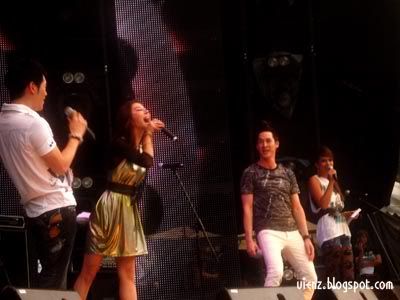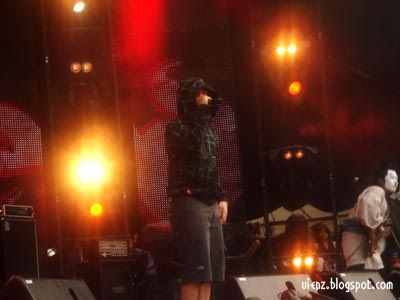 Estranged was the first band to perform. First song was The Slave In Us.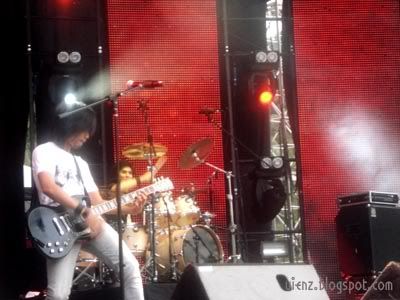 Okay I've no idea who was the guy behind the KISS mask hehe.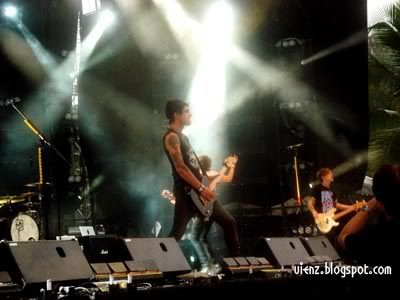 Boys Like girls came second. Apparently, I managed to take more photos of the lead guitarist than the lead vocalist.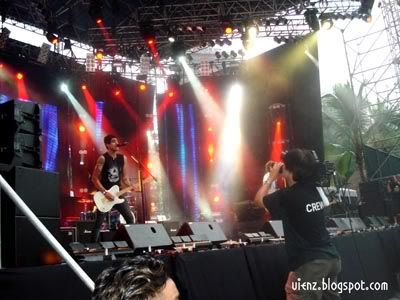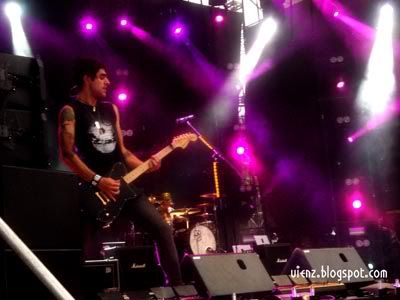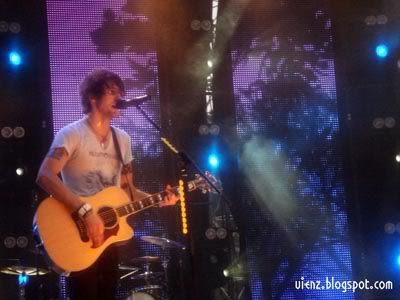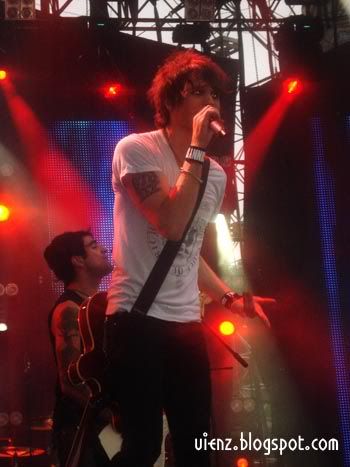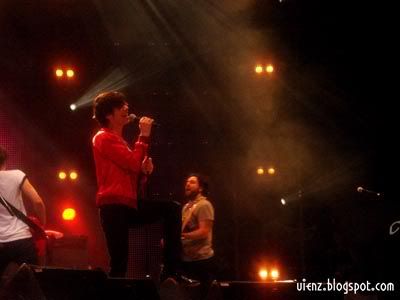 Then it was Raygun's turn.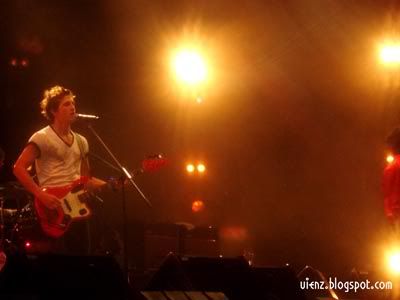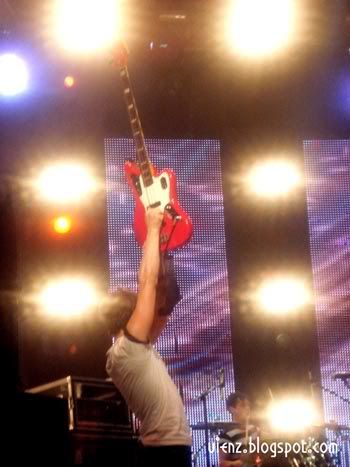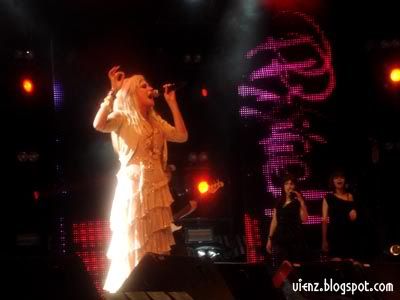 Pixie Lott.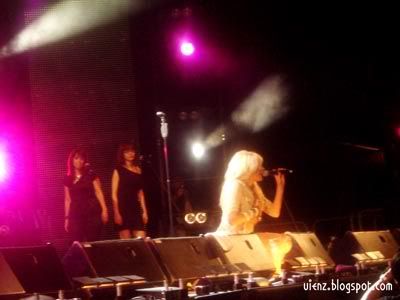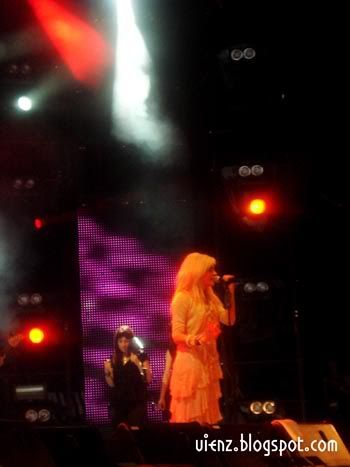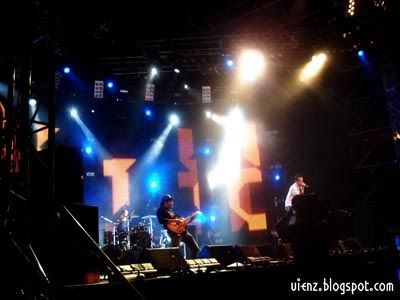 Hoobastank came next! Before they performed The Reason, they were singing the Ghostbusters theme song...super random but me likey!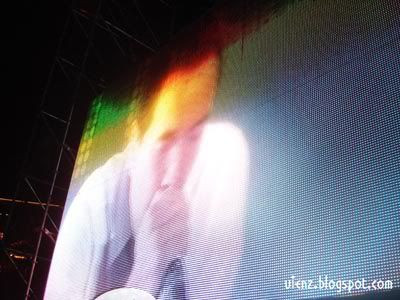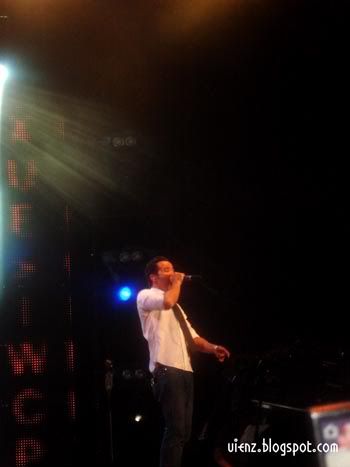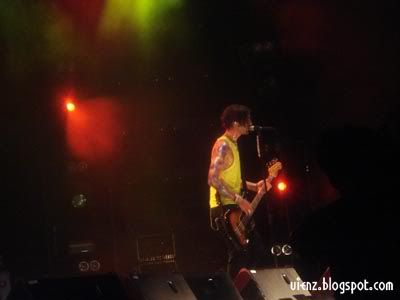 AAR's turn to perform. They sang Dirty Little Secrets first. Can you see Tyson's arm that's been covered with glitter?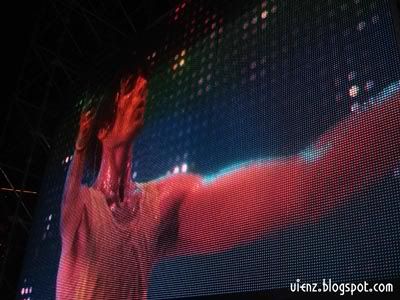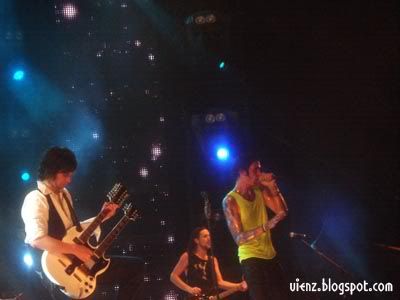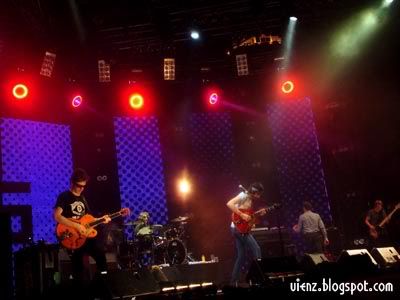 Kasabian was the last band to come out that night.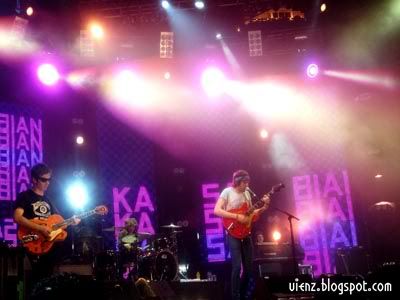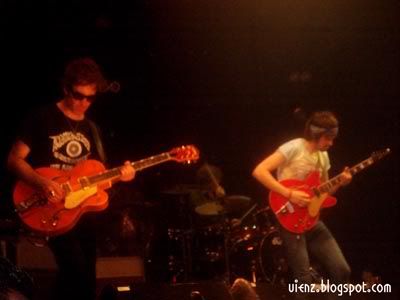 More pictures on my Facebook album
*here*
I think I really need to invest a better point and shoot camera soon. Wish I could get it now but I'm too broke bah :( Anyway, I'm much more free-er for this coming 2 weeks or so, well at least I like to think I'm free since it's the semester break and they are no students who will come and annoy me by knocking on that goddamn door. 2 weeks to prepare for yet another new term. Seems like I have to do quite a number of revision especially on Photoshop. My gawd, how am I going to be ever prepared for this subject man? Will try to blog as often as I can. I know I've been quite inactive...sia ada personal reasons bah hehe.
I just remembered that I've to work until SUNDAY this week. Saturday and Sunday I've to be in the college as early as 7am. There goes my chance to sleep till noon wtffff. Okaylah, I'm gonna go and mourn now because ManU just lost to Burnley. How can?