Another new week has just started and as usual I am totally on busy mode preparing for classes and I am gonna be totally honest here, as the week passes by I am getting more and more worried/scared when the students are starting on their final projects especially on CGDII (Photoshop) class. I've already mentioned that this particular subject is so not my forté right? So yes, I've been secretly worrying about this for quite sometime but I just really really hope that everything will be fine. Seriously. If I screw everything up, then there's no point for me to be in this world anymore hahaha. Okay, I'm not exactly serious on the
no-point-to-be-in-this-world
part.
Aight so let me blog something about my trip to Penang Island. It was actually my virgin trip to The Pearl Of The Orient. Have always wanted to go there after hearing people/friends talking about how Penang is a food heaven and also heard people talking how nice the old colonial buildings are. I like old buildings especially those which has a lot of intricate details on it. Anyway during the Raya holidays, Simone and Eve (the best friends slash childhood friends) came over for a holiday. It was good having them around though they had to stay at my not so great place. My bedroom has an ugly view outside and the fridge at my place needs to be closed by pasting masking tape on it pffffft. Still hope they don't mind with it though hehe. So on Raya eve, the 3 of us together with Astra had a little road trip and headed up to North. Those people were absolutely right about the food heaven part as well as the old colonial buildings!
I told myself to screw diet cos I'm gonna eat like there's no tomorrow in Penang! And the aftermath, well I've been carrying the Raya Holidays weight for a while now urrrghhh. But you know what, there is absolutely no reason to not indulge with foods while you're in Penang :)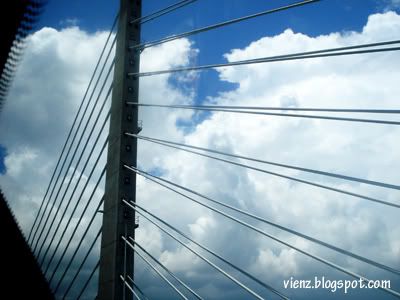 I was in awe when I saw the Penang bridge...first time bah hehe.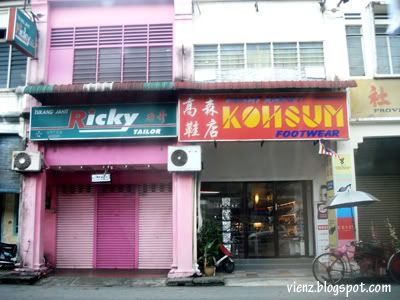 Did not managed to snap a lot of old building photos because we didn't walk much there :(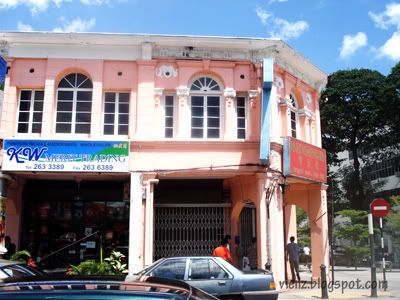 Love the usage of vibrant colour for this shop lot.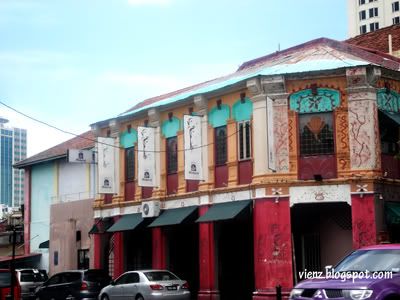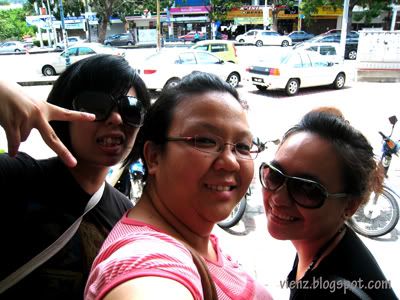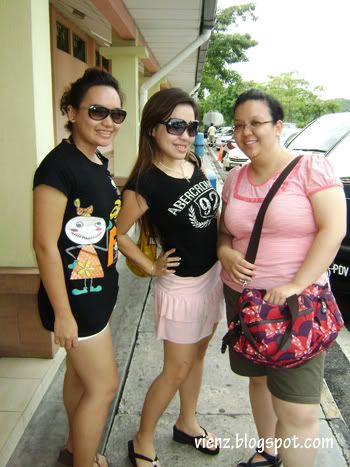 We went to Gurney Drive for dinner on our first night. Heaps of people and I even bumped into my students there too.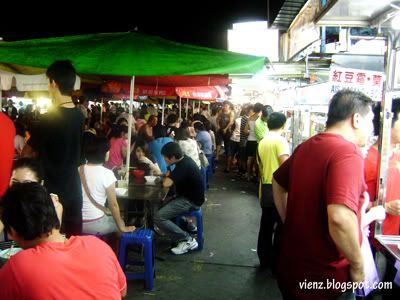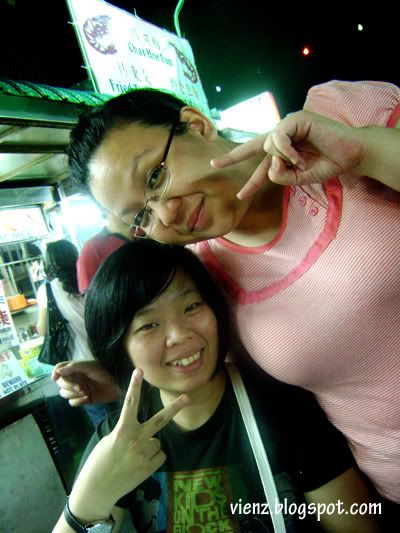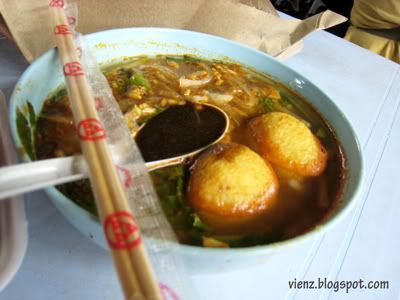 Super delicious Asam Laksa! For a person who doesn't take spicy foods (even chilli sauce), I actually liked it! It has the same effect like the Tom Yam Goong I had while in Bangkok. It's spicy but you still feel like finishing the entire bowl.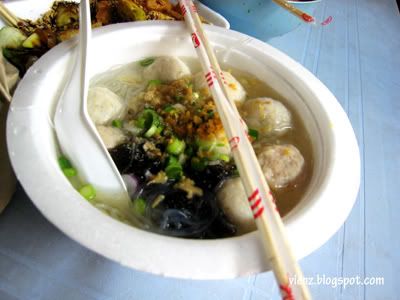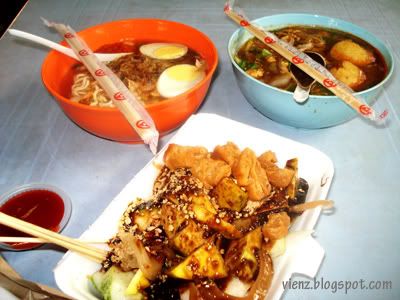 The next day, we had Asam Laksa (again) for breakfast. The green coloured drink is called Ambra which is basically Kedondong juice? Am I right? Thanks to Simone for recommending it :) Love the taste.
Cendol!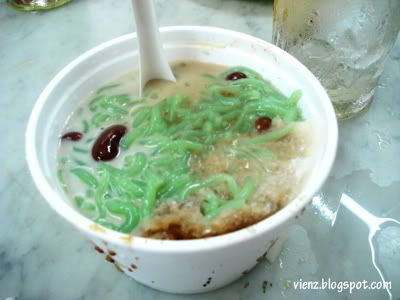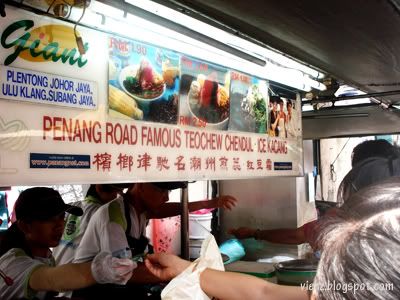 No idea why we posed in front of the police station hahaha.
We went to Batu Feringghi beach on the last day of our trip and stayed over at Abelle's place during the night. Thank you! Simone also told us that the *cough*pirated DVDs are only RM4 there! So I took the opportunity to buy some movies and TV series since it's not everyday we are able to get cheap DVDs right?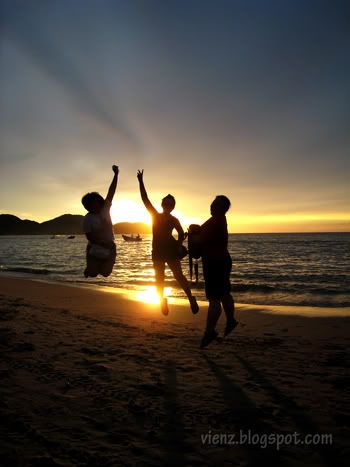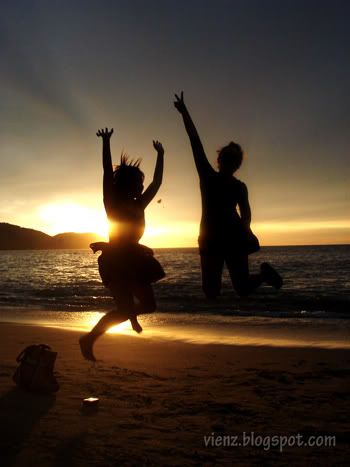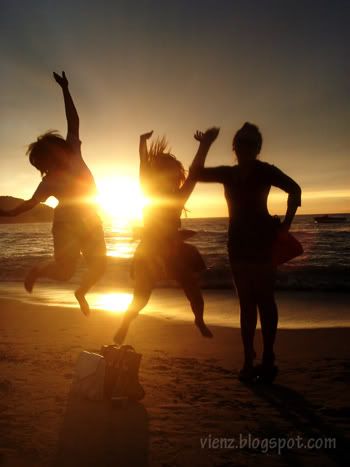 All in all, it was a good trip for a first timer like me. I would really love to go back there again becaue I know there are still things that I am yet to explore/discover and of course still have lots of other foods to try out too. Thanks to Astra, Simone and Eve for the great company. We should do this again no?
Bah Evor...sia tunggu ja tu trip to Melaka ok! Haha.
Still not much going on with me these days but I am currently:
1. Back into my download frenzy mode again. 3 of my current favourite shows (Grey's Anatomy, Gossip Girl and How I Met Your Your Mother) are back with a new season! I'm also looking for any new shows to watch. I've watched 2 episodes of Cougar Town and it was not so bad lah.
2. Financially unstable at the moment :((( I can barely survive man.
3. Just been busy with work and classes.

Okay, I think it's time for bed now. Shit, I hate waking up early man.
PS: I've just updated my
tumblr
blog with a whole load of stuffs (mostly stuffs that I personally found interesting) so do go and check it out (click on my side bar on the right) and maybe it'll inspire you in some sort of way :) My tumblr blog is almost turning 1 year old and I've NEVER mentioned about having a tumblr blog here! Not even once...