Awww...did you surfed on Google today? Cookie Monstah got featured! I like it :)
Yesterday, to my surprise my students were in their best behaviour and that made me extremely happy while in class. Had a conversation with an Indonesian student during D1 class and we were talking about the entertainment industry in Indonesia and he (the student) was so surprised when I told him that apparently there are A LOT of Indon dramas/sinetron that's currently airing on TV right here in Malaysia. He was so clueless about it and he was also very surprised that there are quite a number of Indon movies that has been shown in the cinemas here too hahaha. Don't you agree that we actually enjoy watching K-Dramas, J-Dramas, Indon dramas, pinoy dramas and of course American shows rather that the dramas/shows that are locally produced?
Well, not to say our own local dramas are thaaaat bad but sometimes I can't really stand it when the scripts are bad, the actresses ALWAYS have heavy make-up in every scene even when they are in the bedroom and the story line tends to be really boring.
Anyway, my dad is like a HUGE fan of Indon dramas, I seriously have no idea why. I tried watching with him before but I just couldn't find any way to enjoy it which is why I always ended up watching the shows of my choice on midnight onwards...that is when my dad is already in bed.
++++++
AAR!
So before you start scrutinising your eyes thinking whether am I too old to be listening to bands like AAR, let me tell you this.
1. AAR is a band that I've liked since they came out with their first album. That was when I was just 17 years old and I've continually liked their music until now though, a lot might say that their music are way too mainstream now...which kinda explains why there were a lot of tweens during their concert heheh. So you might hate 'em but I like them a hell lot :D
2. I do listen to a lot of mainstream music and that's just because I like it. I might not know a hell lot of indie stuffs but hey, at least I admit that most of the songs that I listen to these days are pretty much mainstream ones and not just wanting to be 'cool' and act like I listen to a lot of indie music. I can actually listen to different genre of music...it just has to depend on my mood.
3. I was actually contemplating whether I should write a post about this or not cos I know some of my students do read this blog tsk tsk. Maybe I cared too much on what they would think about me once they know that I'm like a superfan of AAR buttttt I shouldn't care THAT much right? I mean I'm a big fan of them it doesn't mean you need to be a fan too kan?
So my point is, please don't judge me la ok hehe.
Right, to sum it up...AAR was awesomeeeee! I enjoyed their performance and the best thing was they sang more songs this time compared to the first time I saw 'em on MTV World Stage. They even performed songs that I didn't really expect them to perform that night like The Last Song and Paper Heart cos I thought they'll only perform songs from When The World Comes Down album and Move Along albums. I did not stood in front this time because I didn't want to get suffocated among all the tweens hahah....actually all I wanted was just to have a good time watching AAR (even it was quite far) without being squished around. Plus I went to their autograph session in the morning and secured myself a pass for the meet and greet session after the concert so it was all good!
Here are the list of songs that they performed that night in no particular order: Move Along, Fallin' Apart, Swing Swing, Paper Heart, Dirty Little Secret, Damn Girl, Real World, Mona Lisa, It Ends Tonight, The Wind Blows, I Wanna and Gives You Hell.
Tyson was wearing a Red Indian headgear because it was Halloween :))))))
Pictures! (Taken at Pavillion)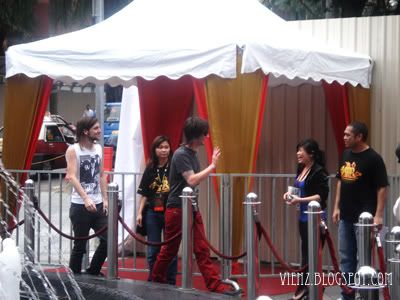 Mike Kennerty and Nick Wheeler arriving at the autograph session @ Pavillion.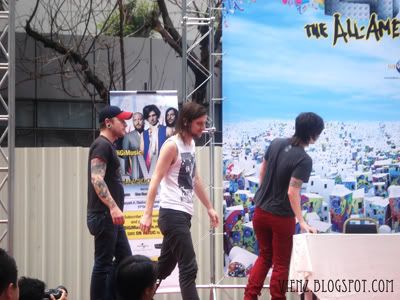 Joined by drummer Chris Gaylor.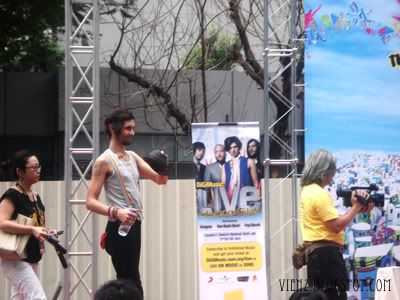 And Tyson Ritter! Man, he is super skinnyyyyy...seriously!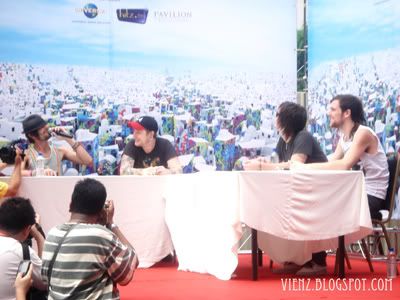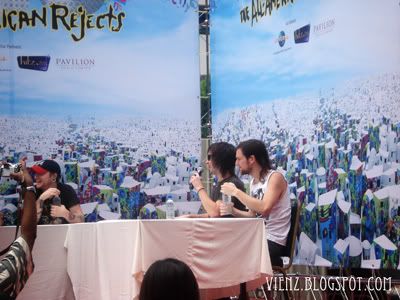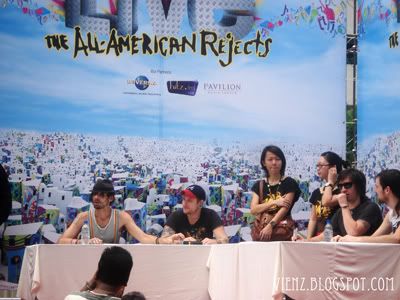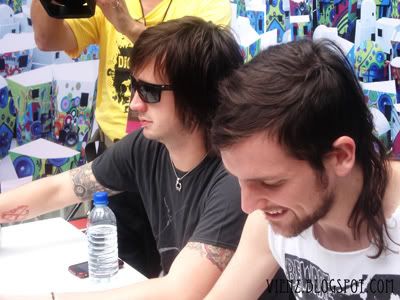 The DiGi people didn't allow the fans to snap pictures while we were up there getting their autographs which really sucks but I managed to snap some muahahaahaha.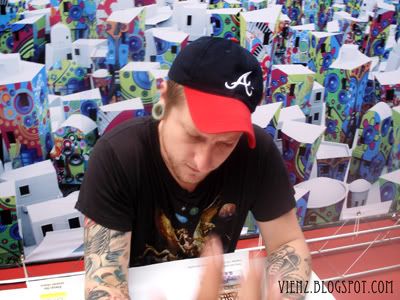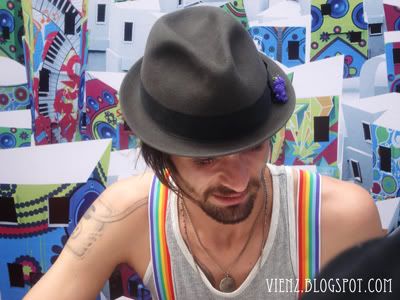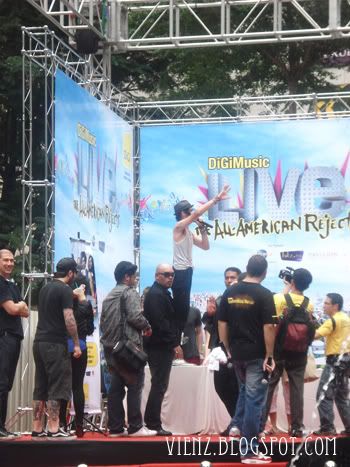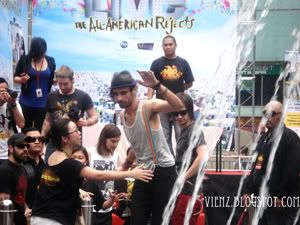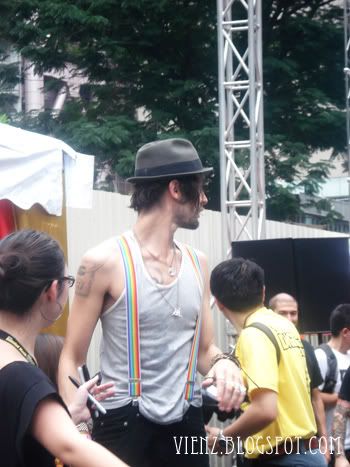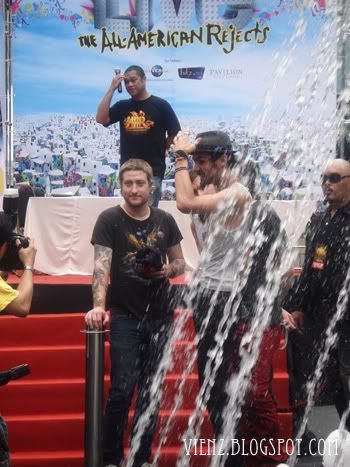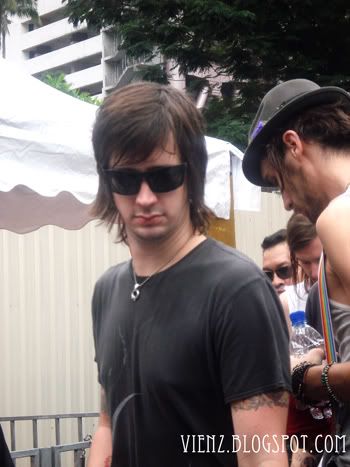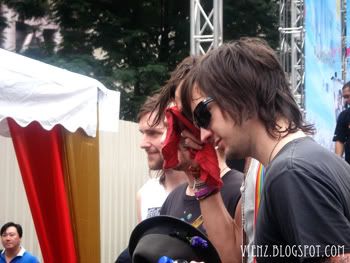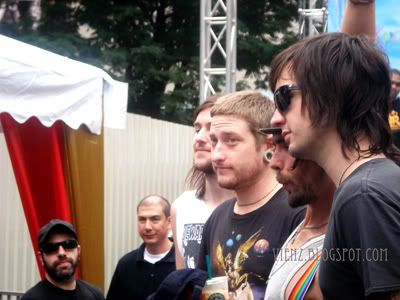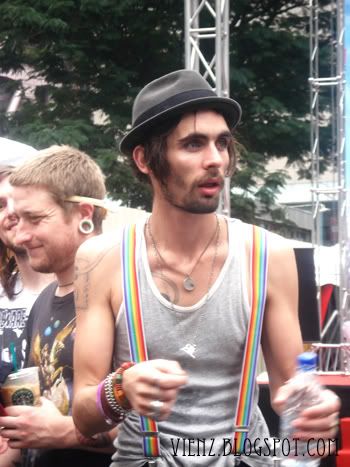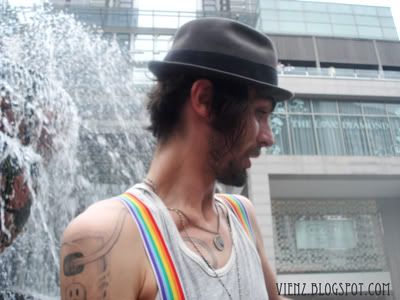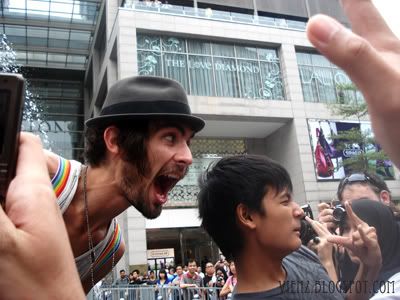 LOL...Tyson's fan boy.
It was indeed a well spent Saturday :) My feet hurts like crazzzy once I reached home after the concert. Oh, the local band Disagree were goooood too! Anyway, I went to watch MJ's This Is It movie the day after and it was so so nice as well. If only he was still alive...sigh.
Weekend's here again....have a good one everybody :)