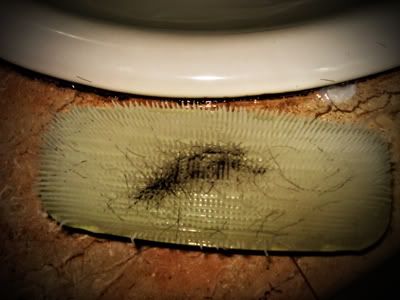 The above picture is what I've discovered when I just reached home on Tuesday night from Penang. I was rearranging my toiletries in the toilet when I found out some "hair" on the sink. Then I discovered more hair that has been attached with the brush! WTF! I did some analysing and I seriously think that the "hair" comes from... you know down there hahahaha. Okay, my housemate, the one whom I share the toilet with is actually a nice guy but leaving that in the toilet is a like a big crime man! Come on...you don't wanna be like Jason Biggs in American Wedding right? Super gross okay.
Anyway, I've been quite busy since I came back from Penang. Had to run errands here and there as well as conducting classes too. Haven't got the chance to get a proper rest too and I thought today I could finally sleep longer but then, I woke up at 8.30am and I couldn't sleep anymore fml. Sill, I am happy that it is finally the weekends again :D Oh yeah regarding about my Penang schedule, good news is I am still flying there on Monday morning...which means I still get to spend my Sundays here. The not so good news would probably be my classes in Penang are insanely packed and I really have a limited time to venture all the interesting places there :(

These are the only two pictures that I managed to snap while I was in Penang. There are soooo many interesting things to see there! But like I said, I really have limited time to do some sight seeing there. Hopefully will snap more interesting things if I have the chance to.
On the other note, I've just started watching the show
Glee!
I knew the show was out since almost a year ago but I never actually thought of watching it cause I've been watching quite a number of TV shows already. But since two of my colleagues told me it was nice, I finally decided to download it and...what can I say, I instantly LOVE it!
I've been replaying this video over and over again hahaha. The Acafellas did an awesome rendition of Color Me Badd's I Wanna Sex You Up. Watching this also reminded me how much I love 90's music and of course, boybands :DDD I don't care how cheesy they are but I still like boybands okay.
Also, The Vampire Diaries is back as well whoop whoop! Okay, gonna go and clean my super messy room now. Have a good weekend and stay safe!