This post is written by: Vivien Dumpangol. DO NOT GET IT TWISTED YO.

The day before Ne-Yo's concert, I texted Ivan to ask him whether he had already made his decision to go for the concert or not. I could understand that he was sort of unsure because well, apparently we were both low on cash...but I convinced him to go because I knew he might regret it if he just stays at home while Merl and I are enjoying the concert. So to cut the long story short, thankfully there was a blessing in disguise and I did managed to get the tix for him :D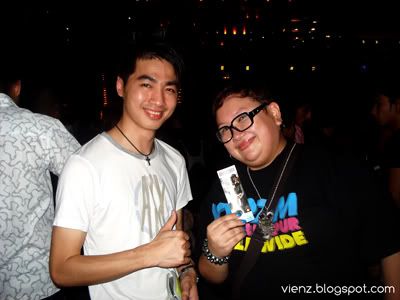 Taken before the concert starts...I know it would be much more awesome if we managed to get the RM260 tickets...but I ain't complaining cos as long as we were there, then everything is A-OK.
Ne-Yo taken from the big projector because we were indeed standing quite far and you know how my camera is right...it hates me.
Ne-Yo managed to perform most of his singles from So Sick till Part Of The List. If I recall, there were two singles that he did not performed that night which was When You're Mad and Can We Chill. First song he sang was Because Of You...Merl and I were already jumping and screaming crazily when we saw him on stage haha. There was one point, where I got way over-excited (really?) when Ne-Yo was performing Sexy Love. Okay, that was what Ivan told me la hahaha...but hey, I LOVE that song!
Some of my favourite non-mainstream songs that Ne-Yo performed were Fade Into The Background ( I love love this song!) and So You Can Cry (absolutely love this song too). Overall, it was an awesome concert. Ne-Yo has a really good vocal and he can dance well too. Seriously, he did not disappoint us at all.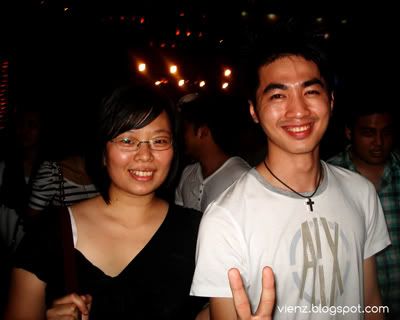 Then there was this after-party going on at MOS. I wasn't sure if we really wanted to go since the next day is still a working day but we went in anyway haha. Some of my students spotted me there..and I was like, "Oh crap!" But these bunch of students are the 'cool' students so I guess it was okay? Anyway, I had a pretty good time there as well. The music and company was good plus MOS is a smoke free club :D
It's already the second week of January and all my classes will officially start this week. Monday and Tuesday are reserved for Penang. Yes, I am gonna be deported after all haha BUT I've no idea when yet. I've been told it should be this week but now...I'm just not sure when. If it's not this month then it might be in early February. So yeah, tentatively the plan is, every Monday and Tuesday I will be in Penang and Wednesday onwards I'll be back here to conduct classes as well. Do wish me luck on this cos I think I will enjoy it first but travelling back and forth every week *might* drain me out. Here's to a wonderful week ahead. Cheers!