Seems like I haven't blogged for a while. Just needed some quiet time from everything that's currently going on. Was feeling down for a while then pissed and then down again...but I'm really fine now. I just need to be. Anyway, nothing much has been going on lately. For 6 days straight I've been hanging out with Ivan. Man, he must be bored seeing my face everyday haha. But hey what can I do...it is so much easier to hang out with him since we both stay in the same area kan???
Went to catch a movie on Saturday since I haven't been into the cinema lately. The last time I watched a movie in the cinema was like a month ago. So Ivan and I decided to go and watch Remember Me.You know it's not exactly easy to convince Ivan to go to the movies because he only goes there like once in the blue moon or if there's a movie that he's really eager to watch like MJ's This Is It. But I think the reason why he actually agreed on watching Remember Me was because Pierce Brosnan was in the movie as well. Have I ever mentioned that Ivan's a fan of Mr. Brosnan? Hehehe. Well I, on the other hand has been wanting to watch the movie because...you know, Robert Pattinson :DDD. Would like to see him just playing a normal role, without having to do wizard magic or being a bloodsucker haha.
The movie was just...okay for me. To be honest I actually liked Robert Pattinson playing a vampire more. At least he looked clean and tidy hehe. But the ending was pretty good, quite an expected turn and I also think that having Pierce Brosnan to play Robert Pattinson's dad in this movie was a good choice :D Next movie to watch is Alice! Yes, I haven't watch that yet.
Some random pictures just because.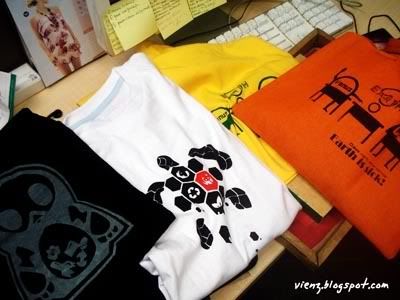 Students' screen printing work for V. Comm class. My last class for that subject was on Friday and I'm pretty impressed with the outcome that they did.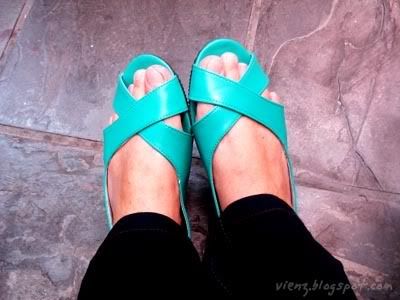 I must avoid looking at bargain things because I will turn into an impulse buyer in an instant. The shoes cost RM15 from Cotton On hehe.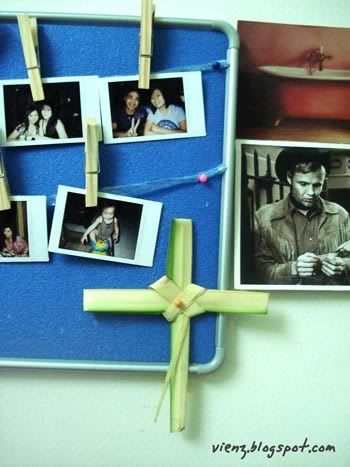 Check out my custom made palm that I got from the Church yesterday. Sticking it on my 'inspiration' board so that it can bless everyone in the instax pictures haha.
Talked with Anne via Skype a while ago. Look at Baby Lia! Kiut berabis oh! After having a Skype account for a while, this was actually our first ever video chat. Hope there's more to come :D
Okay, gotta go pack and prepare for another trip to Penang! 3 more weeks to go before I don't need to travel there again...Have a good week everyone. I have to work for 7 days straight this week. Even during Easter Sunday :(