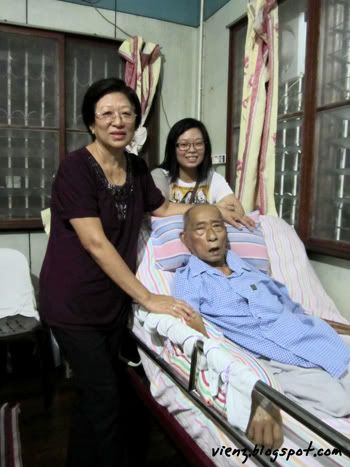 Late Saturday morning after spending my entire day out with my cousins+in laws, I arrived home only to receive a news that my mum's eldest brother had passed away. I was surprised because he was a strong man and even though he looked quite weak when I visited him 3 weeks ago, I really thought he could still hang in there for a longer time. But, I guess God has finally decided to take his suffering away and brought him to a better place now. There's a lot of things I could remember about my oldest uncle. When I was a kiddo, I remembered going to his house every first day of Chinese New Year because all of my mum's side of family would always gather there and also to watch the lion dance performance. The tradition still lives on but I've been missing too many Chinese New Year celebration in Tawau over the years :( I also remember my uncle as a tough, hardworking man who works hard for his family (he has 7 sons and a daughter btw) and was really good in looking for business opportunities. I guess that's how his sons learned the art of making good money and eventually started to make business on their own.
But that one thing that I would remember the best about my uncle was when I always find him sitting at his favourite corner with a cig and Stout after a long hard day from work, watching his grandchildren running around the house. I reckon that brings much joy to him :) But it is because of his heavy consumption of alcohol and of course, smoking that made his diabetes turned really bad. It was pretty heartbreaking when I visited him 3 weeks ago because my mum told me that my uncle has a slight stroke already. But good thing was we were still able to celebrate his 80th birthday on the eve of National Day and he could even remember who I was when I went to wish him Happy Birthday.
My mum was in China when my uncle passed away, she and the rest of my relatives has to cut their vacation short to go back to Tawau. Funeral service was yesterday, although I'm not able to attend it I pray that my uncle's soul will rest in peace and his entire family back in Tawau will stay strong. I would love to celebrate CNY in Tawau next year if I have the chance but would it be the same? I 'm not so sure about that...
I think I might still be having post-holiday blues eventhough it's already been 1 week+ since I came back to the west side. I don't know...maybe I just felt that having to eat dinner all by myself everyday is not exactly fun at all or maybe coming back from the holiday means having no family members around. Plus being alone makes you become an emo person because you tend to think about stuffs like what do you wanna do with your future or when can you finally go and travel to all the places you've been wanting to go. If you know me well, thinking about all these stuff can make me so insanely depressed. But whatever it is, I gotta be strong as well, to overcome all these and remind myself constantly that life and things will be better soon *hopefully* Anyway, it's another public holiday tomorrow and it's Malaysia Day! Not sure what I'm gonna do but I think I'll probably just gonna stay at home, catch some sleep and just sit next to my balcony and do some reflection on life...hahaha kidding.