Today marks the 3rd death anniversary of my cousin, Azlan. Remember that we miss you heaps and hope you are doing well wherever you are. You will always be in our prayers. I went through my archive and re-read what I've written when that incident happened. Still felt surreal you know. Read all about it *here* or click on the label,

In Memory Of Wan

below the comments for more.
It's already December! My favourite month of the year for two main reasons of course :D Next week will be the last week of the semester and then the students will have their holiday for 3 weeks. Not exactly looking forward to grade a whole load of works but I've no choice la. I'm totally looking forward to celebrate Christmas in KK but right at this moment, I gotta focus on work man. Speaking of Christmas, anyone is excited about it yet? Unfortunately for this year, I am only able to do minimal Christmas shopping for myself and also can only give out Christmas gifts to very limited people. Sad to say, most of my moolah has been used to purchase air tickets. I mean I've flown back home for 4 times this year...not that I'm complaining cos going back home is always awesome but still...money's been pretty tight for the last few months. If you're in my 'very limited people list', then you're lucky!
So as you know, last weekend I attended a church camp organised by the
Revolution Youth Ministry
from St. Ignatius church, PJ. The last church camp that I've attended was years ago...I think back when I was 12 or 13 years old. Because back in those days, my cousin Anne and I were still young, naive and will easily get bullied so we were kinda forced to join the camp by the seniors. I think we were a bit reluctant to join at first and we even gave them some terms and conditions if we were to join the camp. One of the conditions was, we won't sleep at the Parish Hall with the rest of the participants but instead will go back home to sleep when the program is done for the day. Well, at that time it makes perfect sense because we can just go to the church anytime since we stayed so near, just five minutes walk to reach the church.
But I do remember some of the fun moments during the camp, especially when we played all the team games. Now being almost 26 and also an adult, joining a church camp did actually gave a whole different perspective. The camp was held in Genting View Resort, just a few kilometres below Genting Highlands. I went to the camp with Ivan and two of his two sisters. Talking about major awkward! Hahaha actually, it turned out to be okay. Just minor awkwardness here and there but it was alright. The four of us plus the rest of the participants stayed in a villa that comes with 4 dorms. It was actually refreshing to be away from the big bad city once again and be close to nature :) Waking up early in the morning and having the chance to breathe the cold fresh air was definitely better than being greeted by all the concrete walls in the place where I am currently staying pffft.
Anyway, to cut a long story short, I personally gotta say that I truly enjoyed this camp. Probably the main reason was because the priest was uber cool! He made every sharing session worth to listen and I also liked the fact that he will use a bible verse to relate with our everyday life and by that I mean all the high and lows that we go through every single day. Like I've said before I might not be the best catholic person but I never want to lose my faith in God despite all the things that I've been through. Those sharing that was given by the priest made me ponder over a lot of things and I probably could write a long essay about it but I think for now, I'd just write everything down in my personal journal first and will share it one of these days.
Indeed it was a fun camp! Didn't really expect it'll be this fun heh. Gained a few new friends which I hope I am still gonna be in touch with. Thank God for Facebook ey? When I reached home on Sunday evening, I spent the rest of the night alone but I was satisfied and felt a sense of happiness in me. Didn't regret to sign up for the camp...well, what I kinda regretted was not taking more pictures boo! Also big thanks to Ivan for driving up all the way to Genting.
Here are some photos. Enjoy!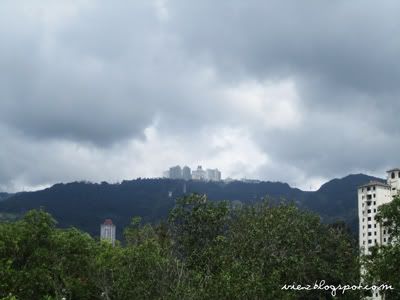 Can you spot Genting Highlands?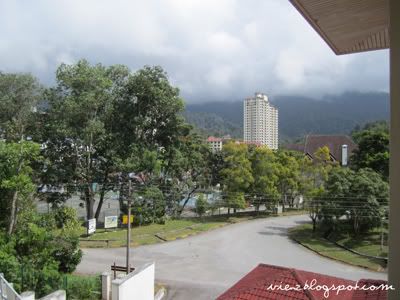 The villa is surrounded by tons of trees. Yay for nature!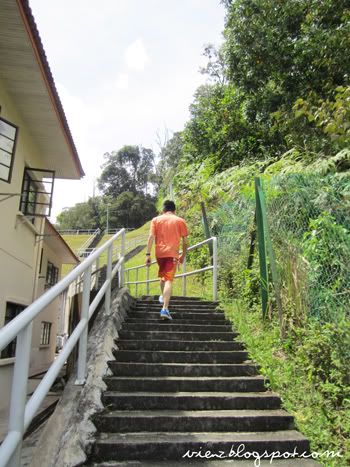 We found a staircase that leads up to a hill. Actually there's nothing up there but just a bunch of *cough* participants who sorta formed their own secret smokers society hahaha.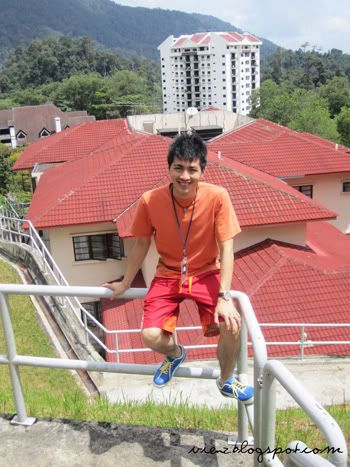 Bruce Lee stopped by and asked for a picture.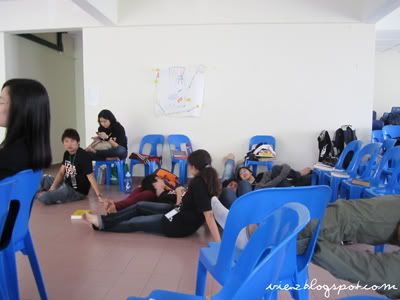 This was taken on our last day of camp.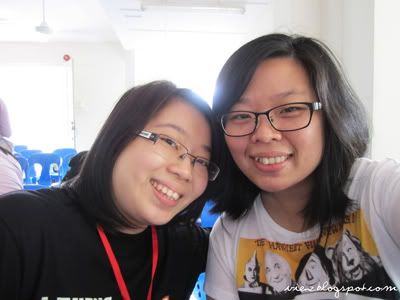 Debbie, who was one of the organiser. She's been super nice to me and also to everyone since the first day I met her.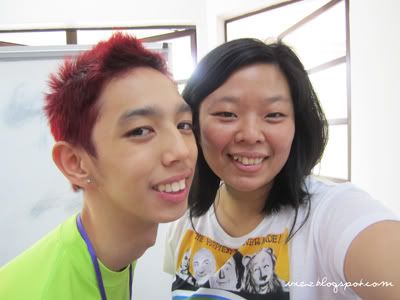 With Nick the fashionista. Really bubbly, hyper guy who loves to talk.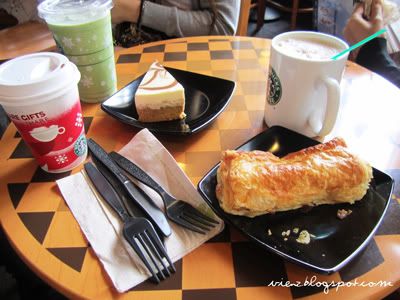 Before we headed back to KL, we decided to go up to Genting Highlands for a while. That place was super packed with people...no kidding. Well it's the school holiday that's why.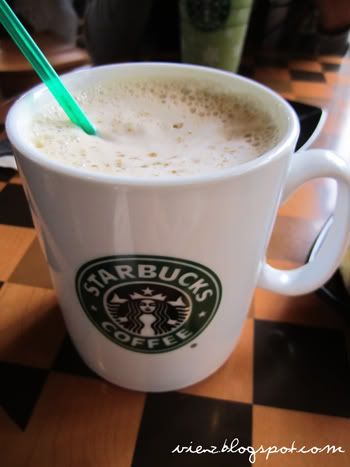 Because I won some money from the casino, I was able to buy this Christmas Toffee Nut Latte which tasted good by the way :D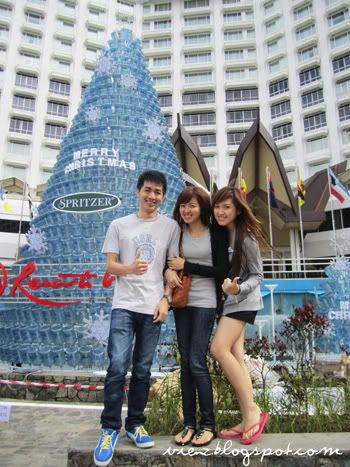 Then we went out and spotted this huge Christmas tree made out of recycled mineral bottles. This is Ivan and his pretty sisters.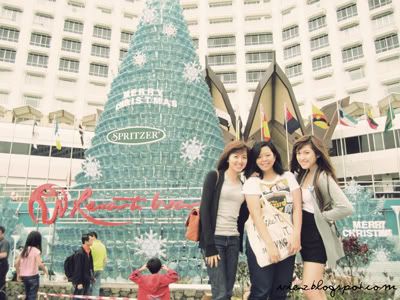 And that's me, trying to put on a smile but deep down I was feeling super insecure over my body and looks hahaha.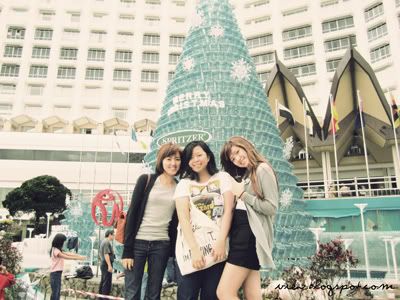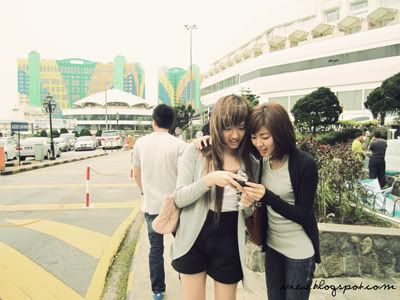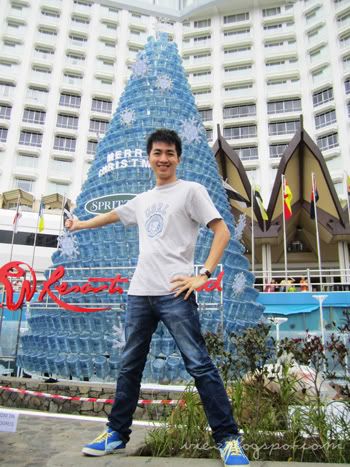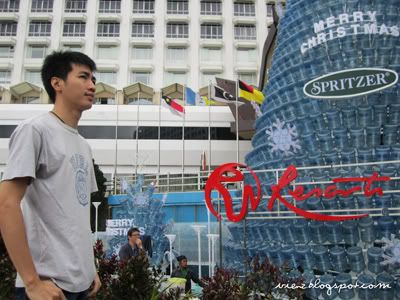 Wang Lee Hom decided to stop by and asked for a picture too haha.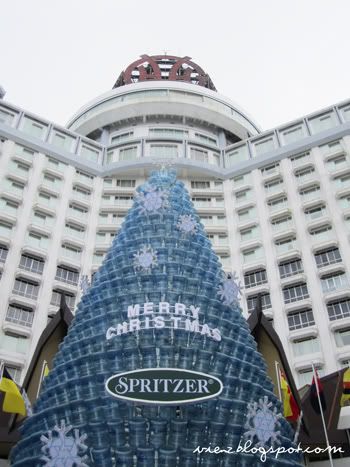 Super awesome weekend! Enjoy the last month of the year...hope this month will be a good month for all of us. God bless!