Current state:
I'm sick. I lost my voice, I have flu and every morning, my cough gets crazy.
Contemplating whether I should go and see the doc and ask for medicines. I'm afraid it'll get worse and I won't be able to do lectures next week.
Have quite a number of paperwork to finish -___-
Been watching one episode of Castle every night and I'm loving the show so far.
Note to self: ALWAYS REMEMBER to double check my class timetable. I really thought I don't have any classes on Friday so I continued doing some of the paperwork until the SRA staff called me up and told me that I actually have a class at 2.30pm! It was already 3pm when he called. I didn't have any choice but to cancel my class, seeing that I don't even have the voice to lecture and also I haven't prepared anything yet. Dang. This should not happen! But it's okay, learned my lesson now haha. I kept apologizing to the students when I met them and they were like, "It's okay! We're happy that class is cancelled," Pfffft.
First week of going back to work wasn't so bad, despite still having the post-holiday blues. I miss the easy life back home but then I can't always be living in that easy life right? I've also been staying home every night ever since I came back (except on Tuesday night and last night), which I don't mind at all seeing that I am feeling under the weather right now. I just hope next week will be a much better week :)
Here are a few more photos taken a few days before my awesome holiday in KK ended. My December trip back home was a good one and enjoyable too. Months ago, I sort of promised my designer friends that I'll be meeting them when I am back but I didn't hee~ and spent more times hanging out with my cousins instead. I know it's definitely not cool but I WILL make it up when I am back again during CNY. Sorry!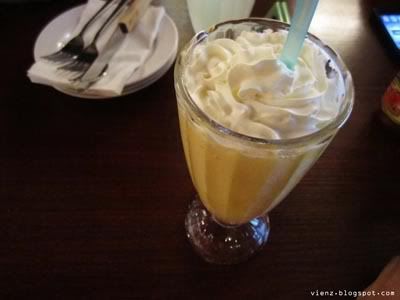 I managed to go the all 3 branches of Upperstar during my holiday. I currently love this mango smoothie (minus the whipped cream), thanks to Eve who recommended it to me. Sedap bah!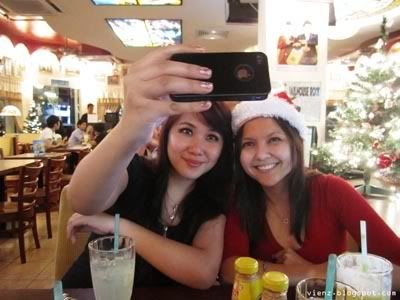 Cool people with smart phones.
Finally visited
Cupcake Calendar
in lintas. The tiny shop looked cute with all the English inspired decor. The owner, Velvet is an old high school friend of mine. Good to know that she has achieved her dreams but I'm sure there's more to come right?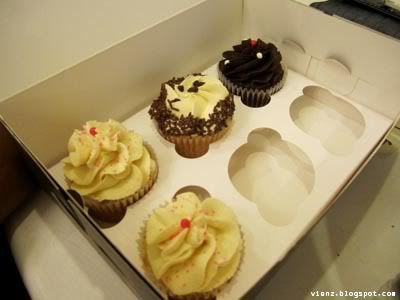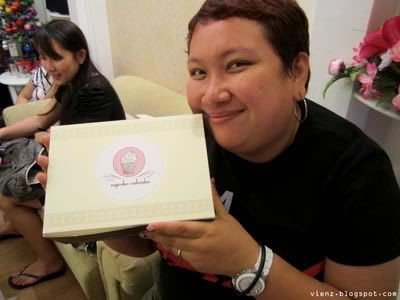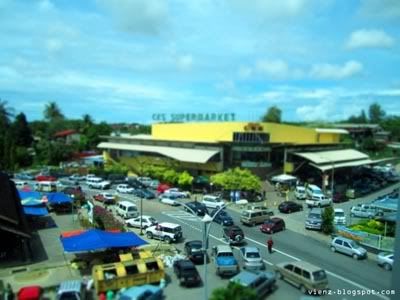 On New Year's Eve, we (the cousins and I) had breakfast in Damai. Surprisingly, I LOVE breakfast session with my cousins. We should definitely do this more. After breakfast, we hung out in Megalong for a while before heading to Sutera Harbour in the afternoon. This view was taken from Megalong's food court.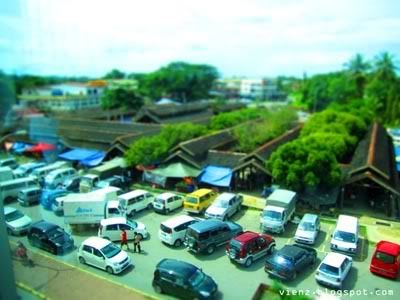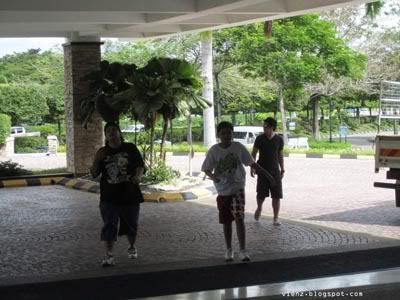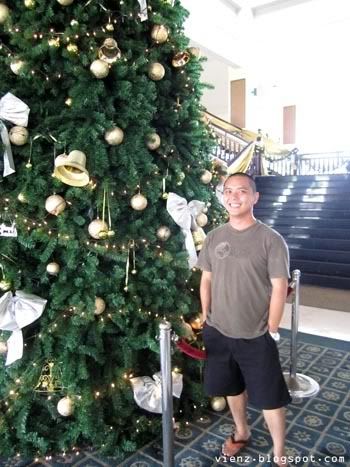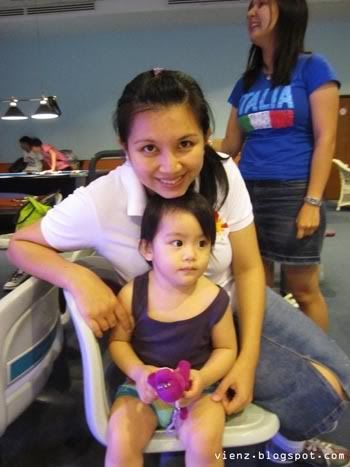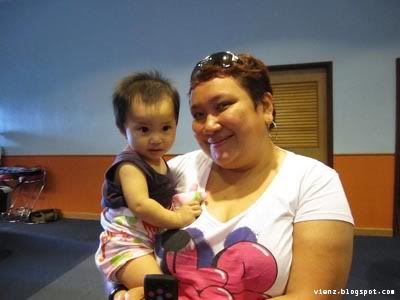 Ophelia and Odessa both have grown since the last time I saw them. I find it kinda hard to 'bond' with them because I hardly see them and I don't know, but is it just me or are babies generally don't like me? Anyway, both of them are sooooo cute and adorable! <3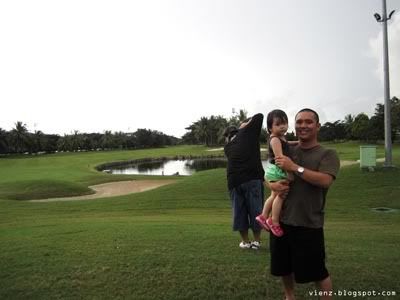 So, we had BBQ session again on New Year's Eve and we also made cheesecake *again* Everybody seems to love it :)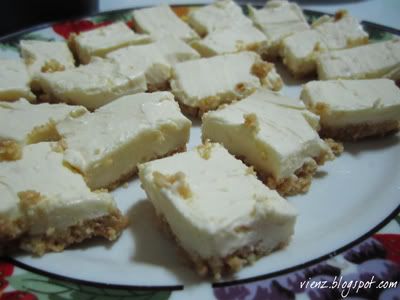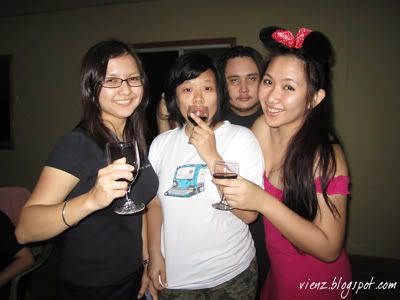 When the clock strikes 12 midnight and everyone was done hugging and wishing each other Happy New Year, that was where the fun begins!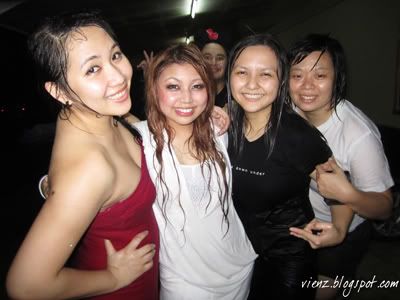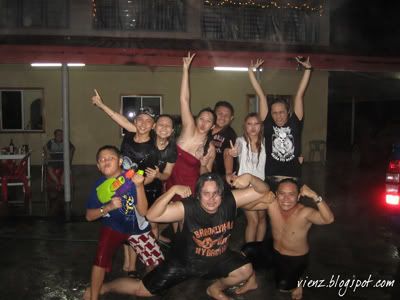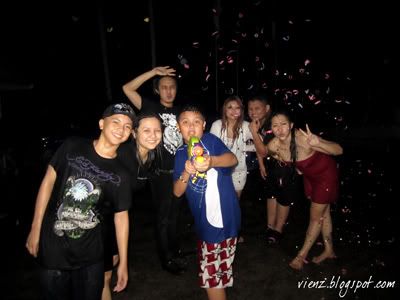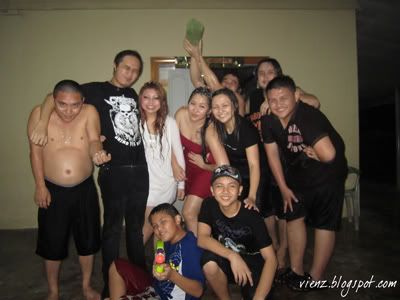 I would be dead pissed if my d-cam got wet but before it happened, I ran all the way to my house (which only need 0.5 seconds to reach) to keep it before joining in the fun again. We played another round of charades when everyone has showered and changed their clothes. This time around, it was girls against the boys and we (the girls) have proved that we are better than them boys :) Super fun NYE celebration indeed.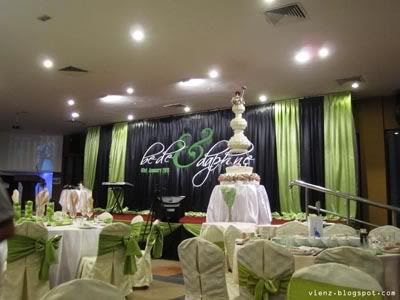 Attended Daphne and Bede's wedding on the first day of new year with my parents and bro. Daphne's my niece btw and we're the same age...and she's married! Aww man...anyway, congratulations to the both of you!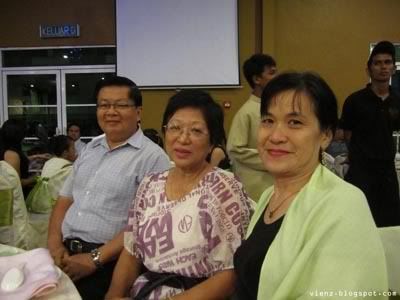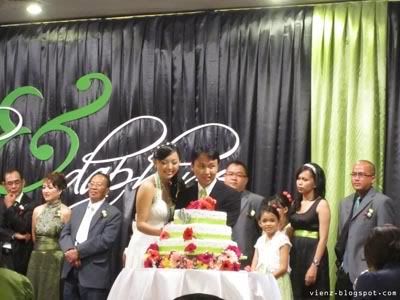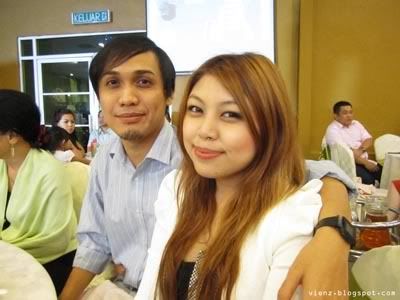 Mierah and Izrul came a while later...at least I didn't get bored during the reception lah.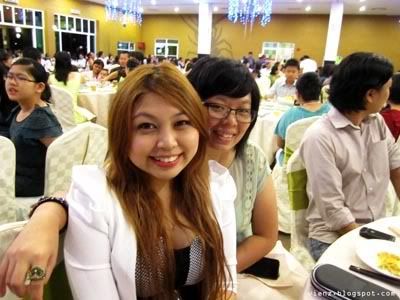 Well, that pretty much sums up my year end holiday in 2010. I'm gonna miss all the fun and the people back home but I'll be back again for CNY! Right now, I gotta focus on work and my classes. Lots of new changes in the foundation subjects soon plus I am involved with an exhibition which will be on real soon too, so I need to work hard on this. I am also trying to open an online shop, preferably
Etsy
but I have to do tons of research on it not forgetting figuring out what to sell. So, wish me luck! Hope you guys had an awesome weekend.